All High-Flex Cables Are Not Created Equal
EAST PROVIDENCE, RI – May 7, 2009 – Cable carrier expert, igus®, offers Chainflex® cables specifically for continuous-flex applications. Most standard cables are not designed with high flexing in mind. They may be less expensive at the onset, but can fail after a low number of cycles leading to costly downtime, machine damage or even a complete halt in production. Chainflex continuous-flex cables can handle tight bending radii as small as four times the outer cable diameter in dynamic applications and have been tested to validate service life over time. Chainflex cables are a reliable solution with 20 years of proven performance.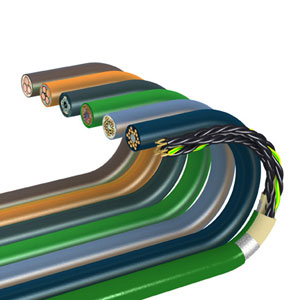 Chainflex continuous-flex cables were first developed in 1989 with the goal of eliminating failures such as corkscrewing, core ruptures and insulation damage. igus pioneered a technique of cable construction in which the conductors are tightly twisted into groups and then cabled into bundles. The conductor bundles are then cabled around a tension-proof center. Bundling the conductors and eliminating multi-layers ensures a uniform bend radius across each conductor.
To ensure Chainflex continuous-flex cables can meet the increasing demands of automation technology, igus performs 35 different tests that expose its cables to high cycles and speeds, extreme temperatures, oil and debris. In one test, igus compared its Chainflex CF27 servo cable to an equivalent 'flexing' cable. After 145,000 cycles, the competitor's cable began to corkscrew while CF27 showed no signs of wear even after five million cycles. This type of data enables igus to design cables that avoid common failures and last for the lifetime of an application. Customers do not have to replace cables prematurely and save time and money in the long term.
Chainflex continuous-flex cables are available in more than 750 sizes and styles. The line includes power cables, control cables, data cables, servo cables, robot cables, and fiber optic cables. No cutting costs or minimum quantities and no expedite fees for next-day delivery. For free samples or to speak with a design technician, call 1-800-521-2747.
About igus
igus develops industry-leading Energy Chain® cable carriers, Chainflex continuous-flex cables, iglide® plastic plain bearings, igubal® spherical bearings, DryLin® linear bearings and guide systems. These seemingly unrelated products are linked together through a belief in making functionally advanced, yet affordable plastic components and assemblies. With plastic bearing experience since 1964, cable carrier experience since 1971 and continuous-flex cable since 1989, igus provides the right solution based on 70,000 products available from stock. No minimum order required. For more information, contact igus at (800) 521-2747 or visit www.igus.com.
igus, Chainflex, Energy Chain, iglide, igubal and DryLin are registered trademarks of igus Inc. All other company names and products are trademarks or registered trademarks of their respective companies.

For press inquiries:
Courtney Toomey
Marketing Specialist
Nikki Groom
Marketing Specialist

For general inquiries (for publication):
igus Inc.
PO Box 14349
East Providence, RI 02914
Toll free: 1-800-521-2747
Tel: (401) 438-2200
Fax: (401) 438-7270
Web: www.igus.com