Aligned OEM Laser Modules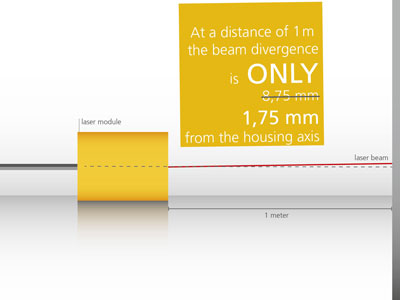 Precision and wide temperature range in one compact low-cost package
In response to the continuing demand of high quality laser sources at low cost, LASER COMPONENTS developed a coaxially aligned, broad operating temperature range laser module in one of the smallest mechanical dimensions. The LC-LMD-650-01-T60-AX module is part of the LC-LMD series producing an optical power output of less than 1 mW.
Industrial OEM Applications
The LC-LMD-650-01-T60-AX laser modules are manufactured to easily align with optical systems in industrial positioning, alignment and measurement applications. The output beam tolerance is less than 0.1 degrees or 1.75 mm/m, which is at least 5 times more precise than most standard products.
The industrial package design tolerates a broad ambient operating temperature rangefrom -5 degrees C to 60 degrees C, features a compact design of 9 mm long and 4 mm diameter, and easily connects via the 55 mm external flying leads.
Product Specifications
The module is eye safe (class II) with an optical power output less than 1 mW requiring low operating current of 15 mA at 25 mW.
All LASER COMPONENTS' low-cost OEM modules support the embedded Automatic Power Control (APC) that keeps the laser's output constant, increases the life-time and allows for an easy-to-integrate design.
About LASER COMPONENTS
LASER COMPONENTS specializes in the development, manufacture, and sale of components and services in the laser and optoelectronics industry. At LASER COMPONENTS, we have been serving customers since 1982 with sales branches in five different countries. We have been
producing in house since 1986 with production facilities in Germany, Canada, and the United States. In-house production makes up approximately half of our sales revenue. A family-run business, we have more than 200 employees worldwide.