AI LED Pattern Projectors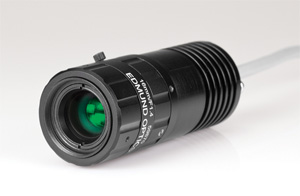 Edmund Optics® (EO), the premier provider of optical components, introduces new AI LED Pattern Projectors. The advanced design of these versatile compact illuminators make them ideal for applications that require structured illumination. AI LED Pattern Projectors are well suited for 3D reconstruction, visualization and mapping, profile management, and mechanical alignment applications. AI LED Pattern Projectors work to eliminate poor line sharpness, scattering and diffraction effects typical of other laser sources.
Provide structured illumination geometries
The AI LED Pattern Projectors are excellent for use with any C-mount compatible imaging lens and negatively patterned 21mm reticle to provide specific structured illumination geometries. These projectors may also be used without a reticle, serving as adjustable spot lights.

Multiple wavelength options available
Multiple wavelength options -- Blue (470nm), Green (530nm), Red (625nm) and White light -- are available in the AI LED Pattern Projectors. Several patterns, including line, cross, stripes, grid and edge patterns are available in a variety of thicknesses and spacing in photolithography or laser engraved models. A power supply and C-mount imaging lens are required and are sold separately.

AI LED Pattern Projectors are in-stock and available for immediate delivery for fast turnaround and excellent value.