Affordable Optical Coherence Tomography (OCT) Imaging System provides high resolution imaging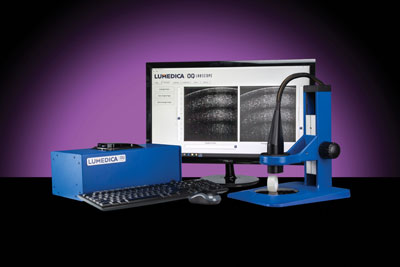 Features axial resolutions of 5µm and lateral resolutions of 15µm
Barrington, N.J. - Edmund Optics® (EO), the premier provider of optical components, introduces a new Optical Coherence Tomography (OCT) Imaging System from Lumedica, the OQ LabScope. This all-in-one, high resolution imaging system is now available from Edmund Optics. The OCT Imaging System is designed as an affordable alternative to more expensive and complex OCT systems. With an affordable price below $10K, the OCT Imaging System is now within reach of a new group of scientists, researchers, and educators, who may have previously found it cost-prohibitive.
The OCT Imaging System provides competitive resolution, frame-rate, and power specifications at an industry-leading price. The tabletop device features a laser centered at 840nm, making it ideal for inspection at depths of up to 2.8mm in air and up to 2mm in tissue. The OCT Imaging System matches the performance of much more expensive units, with axial resolutions of 5µm and lateral resolutions of 15µm. Its small size, combined with an integrated computer and an intuitive graphical user interface, (GUI) makes it perfect for both laboratory or field use. An ideal tool for users of all experience levels, the OCT Imaging System is an excellent choice for biological sample imaging, sample characterization, and OCT education. An optional workstation package is available, which includes a scanner stand with a vertical stage, a large monitor, and a wireless mouse/keyboard combination to interface with the system. The OCT Imaging System is available for immediate delivery.
About EO
Edmund Optics® is a leading supplier of optics, imaging, and photonics technology for the Life Sciences, Biomedical, Semiconductor, R&D, and Defense markets around the globe. EO designs and manufactures a wide array of multi-element lenses, lens coatings, imaging systems, and optomechanical equipment, while supporting OEM applications with volume production of both stock and custom products. EO's state-of-the-art manufacturing capabilities, combined with its global distribution network, has earned it the position of the world's largest supplier of off-the-shelf optical components.

About Lumedica
Lumedica creates affordable light-based scientific and medical instruments that increase access to these diagnostic technologies. Leveraging low-cost and custom-built components, Lumedica is able to make imaging devices cheaper, more durable, and more accessible. The OQ LabScope is the first product to be launched from their pipeline. The company was founded in 2014 based on research conducted at Duke University's BIOS Laboratory. Other technologies and innovations are in the development pipeline.