Advantech Launches WebAccess + IoT Solution Alliance Program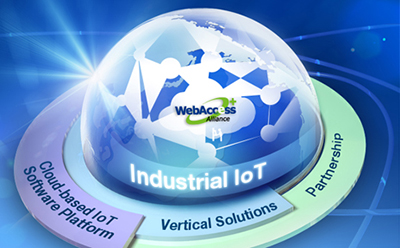 (Cincinnati, OH) – Advantech is pleased to announce the launch of its WebAccess + IoT Solution Alliance program. This program is based on Advantech's popular IoT software suite called WebAccess, The program is a market-oriented cooperation model aimed at building win-win partnerships by using WebAccess software to link solutions, partners' strengths and strategic co-marketing to penetrate focused vertical markets and applications in the booming IoT industries.
By joining the WebAccess+ IoT Solution Alliance Program, members can purchase non-expiring virtual points that become their digital currency. These points can be redeemed for software in the WebAccess IoT software suite, training, marketing, and services at special discounts.
As the core of Advantech's IIoT software framework, Advantech's WebAccess IoT software suite features seven different software packages and offers a unified platform with unlimited potential for members to develop integrated IoT solutions.
WebAccess/SCADA – 100% web-based Smart HMI/SCADA software. Enables easy connection to IoT devices and features a cross browser HTML5 dashboard.
WebAccess/HMI – Open HMI software with PLC driver support. Provides a friendly development interface and easily integrates with multiple protocols.
WebAccess/IVS – Intelligent video software with analytics. Features a modularized SDK ready platform.
WebAccess/NMS – Network management software that is 100% HTML5 web-based. Provides device connectivity management and integration of network topology.
WebAccess/IMM – Interactive multimedia software supporting server-client architecture, multi-screen displays and edit/dispatch programs.
Wise-Paas/RMM – Remote monitoring and management software featuring centralized management, high availability and senor/device connectivity.
WISE-Paas/Security – Security management software with vulnerability manager, ePolicy orchestrator, and global threat intelligence.
Two membership levels are currently available. It just takes 100 points to become a regular WebAccess+ Solution Alliance member and 2,000 points to become a VIP member. Over 40 companies worldwide have already joined the Advantech WebAccess+ IoT Solutions Alliance program.
About Advantech Corporation, IIoT iAutomation Group
Advantech Corporation, IIoT iAutomation Group – With the theme of Intelligent Automation, Seamless Integration, the IIot iAutomation Group of Advantech Corporation is a pioneer in intelligent Automation technology. By combining connectivity, flexibility, ruggedness and being at the leading-edge of Internet of Things technology, IAG offers product offerings from Intelligent HMI platforms, Industrial Ethernet, Wireless Communication, Automation Controllers, Automation Software, Embedded Automation Computers, Distributed I/O Modules, Wireless Sensor Network Solutions, Plug-in I/O, and Industrial Communication solutions for a wide array of industries. With more than 30 years of experience in providing a full range of products to different vertical markets, the Industrial Automation Group is proving to be a global leading Automation Product and Services provider. US operations for the Industrial Automation Group are based in Cincinnati, OH (888-576-9668). Advantech Corporation, Industrial Automation Group, 11380 Reed Hartman Highway, Cincinnati, OH 45241.
Embedded Vision
This content is part of the Embedded Vision curated collection. To learn more about Embedded Vision,
click here
.