Advantech Launches WebAccess 8.2 HMI/SCADA Software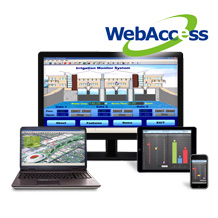 (Cincinnati, OH) – Advantech's IIoT Automation Group is pleased to announce the launch of WebAccess 8.2 HMI/SCADA software. The latest version of WebAccess supports MQTT protocol and adds two new drivers (Ethernet/IP for Allen-Bradley PLC and B+B Wzzard MQTT) enabling the ability to integrate more on-site devices and upload front-end data to the cloud and an enhanced Dashboard ensures stable and synchronous data transmission.
As the MQTT gradually becomes one of the major transmission protocols in the IoT field, supporting it allows WebAccess 8.2 to save network traffic cost and reduce the required bandwidth while getting better network security mechanism to protect the users' important data. Although a lightweight transmission mode, WebAccess 8.2 can act as a gateway and do large data collection, helping to successfully extend systems to cloud applications.
Since the dynamic data display is an important function of the SCADA system, WebAccess 8.2 HTML5 based dashboard not only tuned the widgets to meet demands but also improved data transmission efficiency to accelerate the data refresh speed on the mobile phone. As a result, users can view the dynamic data anytime anywhere without delay.
WebAccess provides special network architecture called Super SCADA, a useful tool to link multiple nodes or projects through a simple setting, making integration quick and easy while accomplishing unified remote monitoring management. When the network connection is interrupted, its active retransmission function can temporarily store the data on the nodes and automatically resume uploads after reconnection. Users do not need to worry about data loss as well as eliminating the trouble of manual resetting by the user. Unlike the traditional HMI/SCADA system, WebAccess is 100% web-based SCADA software and provides cross-platform and cross-browser functionality and compatibility such as Intelligent Dashboard, various open interfaces, ample protocols, and hundreds of drivers, allowing users to conveniently develop projects and view or control automation equipment.
About Advantech Corporation
Advantech Corporation, IIoT iAutomation Group – With the theme of Intelligent Automation, Seamless Integration, the IIot iAutomation Group of Advantech Corporation is a pioneer in intelligent Automation technology. By combining connectivity, flexibility, ruggedness and being at the leading-edge of Internet of Things technology, IAG offers product offerings from Intelligent HMI platforms, Industrial Ethernet, Wireless Communication, Automation Controllers, Automation Software, Embedded Automation Computers, Distributed I/O Modules, Wireless Sensor Network Solutions, Plug-in I/O, and Industrial Communication solutions for a wide array of industries. With more than 30 years of experience in providing a full range of products to different vertical markets, the Industrial Automation Group is proving to be a global leading Automation Product and Services provider.
Embedded Vision
This content is part of the Embedded Vision curated collection. To learn more about Embedded Vision,
click here
.