Advantech Launches Solution-Ready Platform Series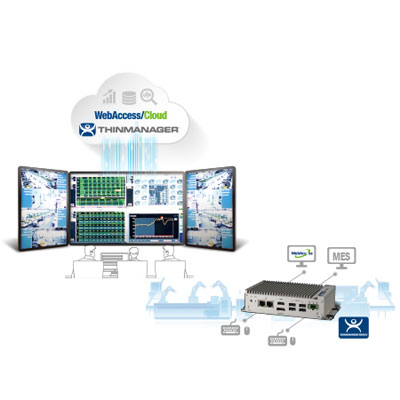 (Cincinnati, OH – July 2017) – Advantech's IIoT Automation Group is pleased to announce the launch of its SRP-FPV240 series of application-oriented solution-ready platforms (SRP).
With the arrival of Industry 4.0 and the resulting trend for increased automation and data communication in manufacturing; technology solutions that can centralize management and streamline data visualization have become essential. To address the need, Advantech created its SRP-FPV240 solutions series based on eight thin client options equipped with ACP BIOS that are fully compatible to the innovative ThinManager® software.
Centralized Management for Efficient Management and Easy Maintenance
The SRP-FPV240 series solutions provide a sustainable and scalable automation platform for boosting productivity by increasing production efficiency and minimizing system downtime through centralized management. Because applications are run on the terminal server and not on thin clients, applications only need to be installed once on the server to be available at all client devices. This reduces operational complexity and facilitates more efficient management of access privileges, authentication, and security through consistent policy application. To future enhance the monitoring, overseeing, and controlling of all processes, the SRP-FPV240 series solutions also supports the independent operation of MES, ERP, SCADA, and VM systems on a single client device.
Enhanced Visualization for Multi-Tasking
The SRP-FPV240 series solutions paired with ThinManager software allows secure and centralized management of all thin client devices, server processes, and data visualization sources in an automation network. Powerful visualization features, including flexible screen tiling and multi-monitor support, enable multiple sessions and displays to be viewed on a single monitor for advanced multi-tasking operations. Additionally, the display layout and content delivered to client terminals can be completely customized according to specific user profiles.
Server Failover and Plug-and Play Functionality
For added reliability and security, the SRP-FPV240 solutions are pre-installed with ACP BIOS for ThinManager support for both server failover and plug-and-play functionality. The provision of sever failover means that in the event of a server failure, all thin clients have the ability to switch to a backup terminal server without interruption. With plug-and-play functionality, if a thin client fails, the terminal can be easily replaced without configuration. The new thin client simply retrieves the terminal configuration data and assumes its identity. Moreover, active sessions are retained on the server to be automatically resumed on the new client, eliminating data losses and workflow disruptions.
Series Platform Offerings
Advantech's SRP-FPV240 solution series comprises of eight thin clients embedded with ACP BIOS software. Featuring a low-power design and compact form factor, these industrial-grade thin clients can be flexibly installed in environments with limited space. Additionally, because they are diskless, they are less susceptible to damage from dust or vibration, resulting in minimal maintenance and reduced system downtime.
Every SRP-FPV240 thin client offers unrivaled performance for a variety of industrial automation and smart factory applications. The multi-display thin client models support multiple display outputs and video interfaces as well as full HD and ultra HD resolutions, providing high-value hardware solutions for divers display applications. Meanwhile, the multi-touch panel model with 21.5" full HD display is IP69K rated for protection from high pressure/temperature spray down and dust ingress, making it ideal for deployment in the food and beverage, pharmaceutical, and chemical manufacturing industries.
Multi-Display Thin Clients
SRP-FPV240-AE: 1 x HDMI and 1 x DP
SRP-FPV240-01: 1 x HDMI and 4 x USB
SRP-FPV240-02: 1 x VGA and 1 x HDMI
SRP-FPV240-03: 1 x HDMI, 1 x DP, and 8 x USB
Panel Thin Clients
SRP-FPV240-03: 21.5" full HD TFT LED LCD industrial thin client multi-touch panel with stainless steel chassis and IP69K rating
SRP-FPV240-04/05/06: 12.1"/15"/17" TFT LED LCD industrial think client touch panel
About Advantech Corporation
With the theme of Intelligent Automation, Seamless Integration, the IIot iAutomation Group of Advantech Corporation is a pioneer in intelligent Automation technology. By combining connectivity, flexibility, ruggedness and being at the leading-edge of Internet of Things technology, IAG offers product offerings from Intelligent HMI platforms, Industrial Ethernet, Wireless Communication, Automation Controllers, Automation Software, Embedded Automation Computers, Distributed I/O Modules, Wireless Sensor Network Solutions, Plug-in I/O, and Industrial Communication solutions for a wide array of industries. With more than 30 years of experience in providing a full range of products to different vertical markets, the Industrial Automation Group is proving to be a global leading Automation Product and Services provider.