Advantech Launches New High Performance Industrial Computers
(Cincinnati, OH) – Advantech's IIoT Automation Group is pleased to announce the launch of the UNO-3283G and the UNO-3382/3384G fanless industrial computers. Advanech's UNO-3000 series of industrial computers are renowned for their high performance, large number of I/O ports, and flexible expansion. They include dual-front hot-swappable SSD/HDD bays with RAID 0/1 support. The HDD/SSD are installed in drive bays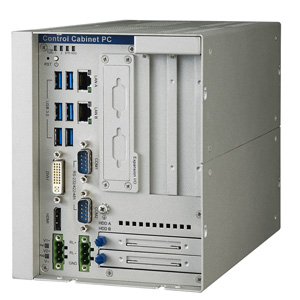 which are accessible from the front using a single captive thumb screw for each bay so that even in the event of failure or an upgrade, this can be carried out quickly and easily. These new models boast many new features which make them idea for factory and machine automation.
To provide optimum flexibility of the already ample I/O ports, the new models support Advantech's iDoor technology which provides users with a host of additional modular I/O port options such as industrial fieldbus, wireless connectivity, and PoE for smart cameras in production inspection applications. Combined with a motion and frame-grabber expansion card through PCIe/PCI, these new industrial computers is an ideal solution for machine motion and vision control applications.
To aid maintenance flexibility, the UNO-3283G has been designed with a new "L" shaped removable cover which enables access to the inside of the machine in a much more convenient manner that before. The "L" shaped cover has been designed with "captive screws" to prevent loose screws falling out during operation or removal of the cover. The design allows users to gain easy access to the PCI/PCIe sockets, iDoor modules, CFast slot, and RTC battery for installation and maintenance.
The UNO-3283G comes with an Intel® 6th Generation Core™ i7 processor. The ruggedized design supports power redundancy and operating temperatures from -10 ˜ 60°C, ensuring they can withstand harsh industrial environments. The robust design is also proven by its UL/IEC-61010 certification.
In addition to these compelling features, the UNO-3283G provides dual video ports for DVI-I and HDMI displays and supports multiple mounting methods like stand, wall, and enclosure mounts, thereby further increasing the flexibility to work in almost any location.
Advantech Corporation, IIoT iAutomation Group – With the theme of Intelligent Automation, Seamless Integration, the IIot iAutomation Group of Advantech Corporation is a pioneer in intelligent Automation technology. By combining connectivity, flexibility, ruggedness and being at the leading-edge of Internet of Things technology, IAG offers product offerings from Intelligent HMI platforms, Industrial Ethernet, Wireless Communication, Automation Controllers, Automation Software, Embedded Automation Computers, Distributed I/O Modules, Wireless Sensor Network Solutions, Plug-in I/O, and Industrial Communication solutions for a wide array of industries. With more than 30 years of experience in providing a full range of products to different vertical markets, the Industrial Automation Group is proving to be a global leading Automation Product and Services provider. US operations for the Industrial Automation Group are based in Cincinnati, OH (888-576-9668). Advantech Corporation, Industrial Automation Group, 11380 Reed Hartman Highway, Cincinnati, OH 45241.
Contact:
Chuck Harrell
Key Account Marketing
513-742-8895 ext 333

Embedded Vision
This content is part of the Embedded Vision curated collection. To learn more about Embedded Vision,
click here
.