Advantech Launches Modular Customizable Single or Double Stack Fanless PC with up to Four iDoor or Five HDMI Ports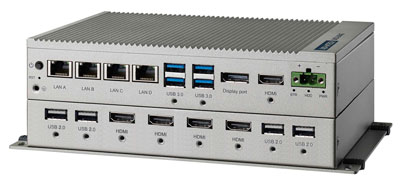 (Cincinnati, OH) – Advantech's IIoT Automation Group is pleased to announce the UNO-2484G, a highly ruggedized modular computing box platform. Equipped with an Intel® Core™ i7/i5/i3 processor, eight GB of DDR4 memory and rich I/O, including four GbE, four USB 3.0, four RS-232/422/485, one HDMI, and one display port (4K), as well as an optional second stack expansion kit that adds four iDoor or five HDMI ports for added flexibly functionality, the UNO-2484G is designed to deliver high-performance computing and maximum flexibility.
With the iDoor modules, customers can extend or customize the platform features to provide purpose-built, future-proof solutions for diverse machine automation, industrial IoT SCADA server, and performance control applications. The platform also features a cable-less design that streamlines installation, while built-in chassis ground protection prevents damage from electrical noise, surges, or transient voltage. The robust and fanless architecture is compatible with 10 ~ 36 VDC input power and supports a wide operating temperature range of -20° ~ 60°C and withstand operation in harsh environments.
Modular, Scalable Design for Flexible Configuration and Expansion
The UNO-2484G features a modular design that can be integrated with diverse peripherals and stackable expansion boards to provide flexible platform solutions aimed at specific field applications. Customers can choose from Advantech's diverse I/O expansion modules (iDoor) to assemble the ideal solution based on their exact usage specifications. The UNO-2484G offers numerous performance and cost-saving advantages, including complete HMI control and monitoring, customization according to application requirements, rapid integration and deployment, reduced downtime and maintenance costs, and support for future expansion.
About Advantech Corporation
With the theme of Intelligent Automation, Seamless Integration, the IIot iAutomation Group of Advantech Corporation is a pioneer in intelligent Automation technology. By combining connectivity, flexibility, ruggedness and being at the leading-edge of Internet of Things technology, IAG offers product offerings from Intelligent HMI platforms, Industrial Ethernet, Wireless Communication, Automation Controllers, Automation Software, Embedded Automation Computers, Distributed I/O Modules, Wireless Sensor Network Solutions, Plug-in I/O, and Industrial Communication solutions for a wide array of industries. With more than 30 years of experience in providing a full range of products to different vertical markets, the Industrial Automation Group is proving to be a global leading Automation Product and Services provider. US operations for the Industrial Automation Group are based in Cincinnati, OH.