Advantech Launches Industrial Isolated USB 3.0 Hub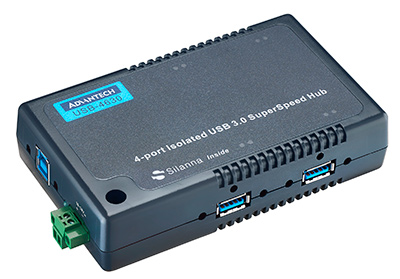 (Cincinnati, OH) – Advantech's IIoT Automation Group is pleased to announce the launch of the USB-4630, an industrial isolated USB 3.0 hub which provides four high-speed downstream ports with five Gbps transfer speed and 2.500 Vdc isolation protection.
High Speed
The USB-4650 provides the fastest data transmission between a USB controller and connected units with isolation protection. Offering up to five Gbps, with four ports, it is 416 times faster than a USB 2.0 isolated hub and provides for ultra-high-speed transmission. Even when connected to USB 2.0 devices, it accelerates speed 40 times, up to 480Mbps.
Isolation Protection
With it advanced isolation protection technology, the USB-4630 saves you from ground loop worries. Moreover, it ensures data integrity, even in extremely noisy electrical environments, for instance, near an operating variable frequency motor or near welding. Normally, spikes between signal and ground line can be prevented by surge protection, however, if the ground line rises beyond the limits of surge suppression, isolation allows the lines to float, maintaining proper ground and signal level on the local side. In this way, your data stream remains undisturbed, while the isolator simultaneously controls electrical flows.
Advantech's USB-4630 four port isolated USB 3.0 high-speed hub represents a breakthrough in isolation technology, achieving five Gbps data rates with USB bus power while still compatible with USB 2.0. The isolation provides the barrier that separates the logic between upstream and downstream devices.
About Advantech Corporation, IIoT iAutomation Group
Advantech Corporation, IIoT iAutomation Group – With the theme of Intelligent Automation, Seamless Integration, the IIot iAutomation Group of Advantech Corporation is a pioneer in intelligent Automation technology. By combining connectivity, flexibility, ruggedness and being at the leading-edge of Internet of Things technology, IAG offers product offerings from Intelligent HMI platforms, Industrial Ethernet, Wireless Communication, Automation Controllers, Automation Software, Embedded Automation Computers, Distributed I/O Modules, Wireless Sensor Network Solutions, Plug-in I/O, and Industrial Communication solutions for a wide array of industries. With more than 30 years of experience in providing a full range of products to different vertical markets, the Industrial Automation Group is proving to be a global leading Automation Product and Services provider. US operations for the Industrial Automation Group are based in Cincinnati, OH.
Embedded Vision
This content is part of the Embedded Vision curated collection. To learn more about Embedded Vision,
click here
.