Advantech Launches EtherNet/IP and PROFINET Compatible Switches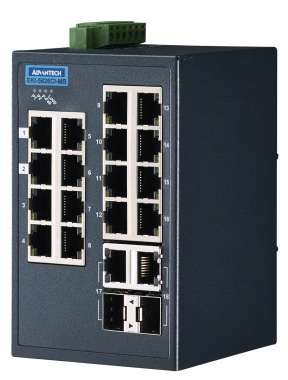 (Cincinnati, OH) – Advantech's IIoT Automation Group is pleased to announce the launch of the EKI-5500/5600 PN/PNMA and EI series of industrial switches. Having switches which can communicate directly across a diverse range of machine automation devices is essential. These latest Advantech industrial managed switches have been designed to communicate through PROFINET or Ethernet/IP. They meet the PROFIENT RT (Real-Time) standard and support media redundancy protocol as well as ODVA certified to meet the requirements of Common Industrial Protocol (CIP) for added reassurance.
The EKI-5500/5600 series are a new generation of industrial protocol managed switch products. They come with a compact metal housing that is IP30 rated to protect against dust. Their wide power input (8.4 to 52.8 Vdc) is dedicated to operating in areas of unstable power and rugged environments. These 8 ~ 16 port entry-level managed switches include the most essential functions to seamlessly communicate directly with SIEMENS by the use of GSDML files and Rockwell PLCs through the integration of Faceplate, a front-end configuration that can communicate directly with Rockwell FactoryTalk® View SE and ME versions. Electric datasheets (EDS files) help to seamlessly integrate with the Rockwell PLCs as well.
As you can expect from an Advantech switch, the EKI-5500/5600 series of managed switches include all the functions needed for successful and easy network configuration. Features such as Ring, VLAN, and SNMP make them especially convenient for setting up a network infrastructure and the inclusion of the PROFINET and ODVA certification, make it easier to roll-out and figure large numbers of switches that can link with a wide variety of devices.
Advantech Corporation
Advantech Corporation, IIoT iAutomation Group – With the theme of Intelligent Automation, Seamless Integration, the IIot iAutomation Group of Advantech Corporation is a pioneer in intelligent Automation technology. By combining connectivity, flexibility, ruggedness and being at the leading-edge of Internet of Things technology, IAG offers product offerings from Intelligent HMI platforms, Industrial Ethernet, Wireless Communication, Automation Controllers, Automation Software, Embedded Automation Computers, Distributed I/O Modules, Wireless Sensor Network Solutions, Plug-in I/O, and Industrial Communication solutions for a wide array of industries. With more than 30 years of experience in providing a full range of products to different vertical markets, the Industrial Automation Group is proving to be a global leading Automation Product and Services provider.
Embedded Vision
This content is part of the Embedded Vision curated collection. To learn more about Embedded Vision,
click here
.