Advantech Launches EtherCAT Remote I/O Modules for Distributed Control Systems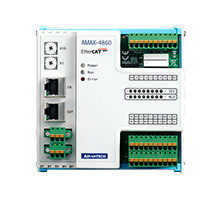 (Cincinnati, OH) – Advantech's IIoT Automation Group is pleased to announce the launch of the AMAX-4800 series of industrial EtherCAT slave modules equipped with the EtherCAT protocol. Their compact size and integrated DIN-rail mount kit ensure easy cabinet installation and Euro-type pluggable terminal blocks with an LED indicator facilitate system setup and maintenance. All modules are protected by an isolation circuit for demanding industrial applications.
The AMAX-4800 series feature a high-density channel design for distributed control systems and deliver cost-effective performance. They support various I/O formats, such as isolated digital input, isolated digital output, photoMOS relay output, relay contact, etc. An analog input module and an output module are also available for data acquisition and device control.
The synchronization time between each slave module is an important parameter for motion control and the AMAX-4800 series support EtherCAT distributed clocks that can be used to calibrate a time difference of less than 1us for synchronized signal output.
Since up to 65,535 nodes can be connected per network segment, the number of I/O channels is no longer limited by the PCI/PCIe slot and Ethernet physics allow a cable length of up to 100 meters between two nodes so expensive signal cabling can be avoided. This means less IPC, simpler wiring topology, and lower cost.
Terminal blocks, LED indicators, and EtherCAT port are all accessible from the front panel, providing for convenient wiring, testing, debugging, and maintenance. In particular, the AMAX-4800 series is equipped with a Euro-type pluggable terminal block for wire insertion without screws or tools. Together, these features help reduce maintenance time and costs.
About Advantech Corporation
Advantech Corporation, IIoT iAutomation Group – With the theme of Intelligent Automation, Seamless Integration, the IIot iAutomation Group of Advantech Corporation is a pioneer in intelligent Automation technology. By combining connectivity, flexibility, ruggedness and being at the leading-edge of Internet of Things technology, IAG offers product offerings from Intelligent HMI platforms, Industrial Ethernet, Wireless Communication, Automation Controllers, Automation Software, Embedded Automation Computers, Distributed I/O Modules, Wireless Sensor Network Solutions, Plug-in I/O, and Industrial Communication solutions for a wide array of industries. With more than 30 years of experience in providing a full range of products to different vertical markets, the Industrial Automation Group is proving to be a global leading Automation Product and Services provider.
Embedded Vision
This content is part of the Embedded Vision curated collection. To learn more about Embedded Vision,
click here
.