Advantech Launches EN50155 Certified M12/M23 Ethernet Solutions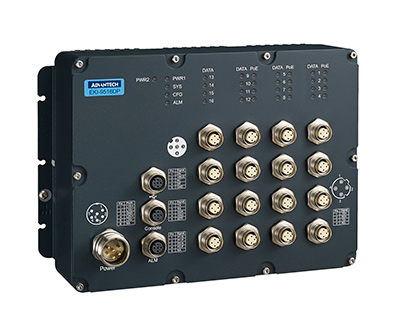 (Cincinnati, OH) – Advantech's IIoT Automation Group is pleased to announce the launch of EN50155 certified Ethernet Switches (EKI-9516/9512) with M12/M23 connectors that are highly resistant to shock and vibration which ensures stable connection and communication.
Advantech has expanded their product portfolio of EN50155 certified train switches with a total now of 12 new models. Six models offer Gigabit Ethernet-four of which have PoE/PoE+ and the other six models offer 10/100Mbps Ethernet-four of which have PoE/PoE+. The EKI-9500 series of Ethernet Switches support a wide range of power (24-100VdC) which allows integration flexibility.
The EKI-9500 series are designed for railway applications with M12/M23 connectors to ensure tight, robust connections to guarantee reliable operation against environmental extremes such as vibration and shock. The EKI-9500 series are fully certified with the EN50155 and EN50121-3-2 standards covering operating temperature, power input voltage, surge, ESD, and vibration, making them suitable for a variety of industrial applications.
About Advantech Corporation, IIoT iAutomation Group
Advantech Corporation, IIoT iAutomation Group – With the theme of Intelligent Automation, Seamless Integration, the IIot iAutomation Group of Advantech Corporation is a pioneer in intelligent Automation technology. By combining connectivity, flexibility, ruggedness and being at the leading-edge of Internet of Things technology, IAG offers product offerings from Intelligent HMI platforms, Industrial Ethernet, Wireless Communication, Automation Controllers, Automation Software, Embedded Automation Computers, Distributed I/O Modules, Wireless Sensor Network Solutions, Plug-in I/O, and Industrial Communication solutions for a wide array of industries. With more than 30 years of experience in providing a full range of products to different vertical markets, the Industrial Automation Group is proving to be a global leading Automation Product and Services provider. US operations for the Industrial Automation Group are based in Cincinnati, OH (888-576-9668). Advantech Corporation, Industrial Automation Group, 11380 Reed Hartman Highway, Cincinnati, OH 45241.
Company Contact
Chuck Harrell, Key Account Marketing
Tel: 513-742-8895 ext 333
Embedded Vision
This content is part of the Embedded Vision curated collection. To learn more about Embedded Vision,
click here
.