Advantech Launches Dual-port EtherCAT Motion Control PCI Master Card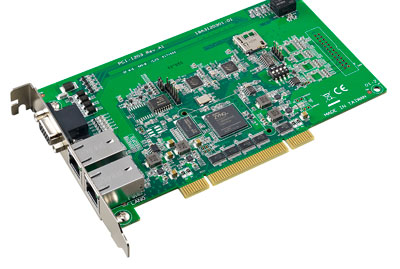 Cincinnati, OH – Advantech's IIoT Automation Group is pleased to announce the launch of the PCI-1203 high-end, 32-axis EtherCAT motion and I/O master card.
The PCI-1203 is a PC-based, two-port EtherCAT PCI card with extra-quick cycle times. For the EtherCAT motion port, it's a fast 500 µs for up to 32 servo axes and cycle time for EtherCAT fast I/O port is even faster – a blazing 200 µs.
The PCI-1203 delivers guaranteed performance with no packet loss, independent of computing platform. Users can take advantage of the "Common Motion API" architecture, which is a unified user programming interface and graphical utility focused on motion control. For real-time performance, the PCI-1203 also provides the Advantech Real-time Enhanced Script (ARES) tool, which allows the user to load control logic into the ARM space; this reduces PC CPU load and bypasses all delay effects.
Fast Time-to-Market
The easy-to-use Advantech motion SDK makes for rapid application development. There is no need to be familiar with any complicated EtherCAT protocol and slave devices can be connected directly without using ESI files; this plug and play functionality further reduces development time.
Deterministic Control
Customized control logic algorithms can be added to the real-time kernel and can fully leverage powerful, "embedded-only" features for real-time applications by using the ARES tool mentioned above.
Softmotion Engine with Vertical Functionality API
The supplied software tools let you expand and tweak functions to serve all kinds of industrial applications. Drive innovation by focusing on a vertical market to solve machine maker's pain points.
Target Markets/Applications
The precision synchronized EtherCAT solution targets high-axis and big data I/O applications.
Embedded Vision
This content is part of the Embedded Vision curated collection. To learn more about Embedded Vision,
click here
.