Advantech Expands its Industrial Managed Switch Offerings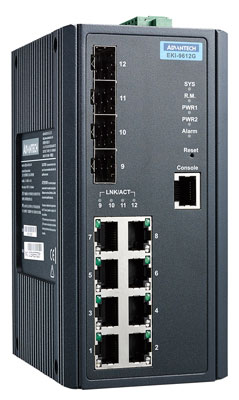 (Cincinnati, OH) – Advantech's IIoT Automation Group has expanded its industrial managed switch product offering with the introduction of the EKI-9600 series. The EKI-9600 series are L3 managed Gigabit switches that support static routing and network address translation (NAT) features, enabling an easier and faster setup for network backbones at a lower cost.
"As connectivity demands continue to grow in the IoT era, constructing a robust network architecture has become a complex task for information and operations technology professionals," says Frank Tseng, Product Manager at Advantech. "The new EKI-9000 series switch is designed to address the issue of growing network bandwidth requirements head-on by providing mission-critical capabilities to help users build proper network segmentation to achieve better network performance at a lower cost."
With the support of static routing, the EKI-9600 series can provide routing between different segmented networks, which not only helps prevent network traffic over-flooding but also maximizes the performance of each network. In addition, with NAT capability, users can better manage their IP resources, increase IP management efficiency, and further ensure network security.
The EKI-9600 series consists for two models, the EKI-9612G and the EKI-9628G. The EKI-9612G is a DIN-rail L3 managed switch that comes with eight Gigabit ports and four SFP (mini-GBIC) ports, while the EKI-9628G is a rackmount L3 managed switch offering up to 24 Gigabit ports and four Gigabit combo ports. Both models are equipped with Advantech's Gigabit X-Ring Pro redundancy technology, which offers an ultra-high-speed recovery time of less than 20 ms, thus ensuring network stability.
"Advantech is devoted to provide our customers with a wide array of industrial communication and networking product solutions to harness the power of industrial IoT. We are delighted to expand our product offerings with the introduction of Advantech's EKI-9600 series of L3 managed switches to reinforce our mission to provide secure and efficient industrial communication networks", said Alpha Chen, Advantech's Vice President of the iConnectivty Group.
To learn more, contact your local Advantech sales representative or authorized distributor.
About Advantech Corporation
With the theme of Intelligent Automation, Seamless Integration, the IIot iAutomation Group of Advantech Corporation is a pioneer in intelligent Automation technology. By combining connectivity, flexibility, ruggedness and being at the leading-edge of Internet of Things technology, IAG offers product offerings from Intelligent HMI platforms, Industrial Ethernet, Wireless Communication, Automation Controllers, Automation Software, Embedded Automation Computers, Distributed I/O Modules, Wireless Sensor Network Solutions, Plug-in I/O, and Industrial Communication solutions for a wide array of industries. With more than 30 years of experience in providing a full range of products to different vertical markets, the Industrial Automation Group is proving to be a global leading Automation Product and Services provider. US operations for the Industrial Automation Group are based in Cincinnati, OH.