Advancing STEM Education Through Partnership with 3M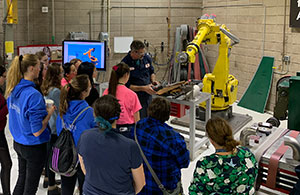 As part of an ongoing partnership with STEM education groups, 3M hosted 15 young women at their abrasive automation lab in St. Paul, Minn., for an afternoon of live robotics demonstrations and conversations with 3M scientists and application engineers.
The visiting young scientists are members of four Twin Cities-area FIRST Robotics Competition Teams: The Robettes from Visitation High School, Minnesota's first all-girls robotics team; Blue Twilight from Eagan High School; MPArors from Mounds Park Academy; and The ERRORs from East Ridge High School. Each team is sponsored by 3M and has a knowledgeable 3M mentor who helps guide the students' projects through the season.
Teams in the FIRST Robotics Competition have six weeks to design, build, and program a robot to compete with others to qualify for a world championship.
The afternoon included a presentation from Scott Barnett, 3M Abrasives Application Development Manager, with an overview of the robotics industry and 3M's role in industrial automation. He reinforced the importance of STEM education in the workforce of the future.
"There aren't enough people to do the jobs and there aren't enough skilled people to help implement robotics," Barnett told the group.
The girls also got hands-on with the industrial robots in the 3M Abrasives Automation Lab, where they saw demonstrations of robotic grinding and deburring. 3M application engineers work in the automation lab to help provide automated grinding and finishing solutions to their customers around the world – from degating and polishing orthopedic implants to deburring golf putters.
Dr. Jayshree Seth, Ph.D., 3M Corporate Scientist, drove home the importance of women and people from diverse backgrounds pursuing careers in STEM. "I feel strongly about including women, girls, and diverse values at the table because if everybody is the same, they will look at the problem the same way," Dr. Seth said. "That's why what you're doing is important."
About 3M Abrasive Systems for Automation and Robotics
Robotic weld grinding, deburring and finishing present exciting opportunities for manufacturers to increase productivity and mitigate the challenges of a shrinking workforce. But with that excitement comes risks, challenges, and unknowns. 3M is a trusted leader in robotic material removal. With decades of experience partnering with system integrators and robot manufacturers – and as a leader in abrasive systems for robots – we help manufacturers navigate the automation process with confidence.