ADVANCED Motion Controls - Six New Analog Z-Drives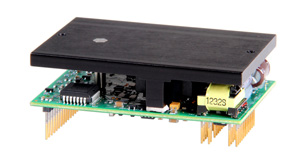 Available immediately are 6 new analog Z-Drive models with increased current output of 60A peak and 30A continuous designed with the same footprint and pin functionality as the previous 40A versions. These new servo drives provide 50% more power in the same space, making upgrades in power output a simple drop-in replacement. Included are models compatible with brushed and brushless permanent magnet servo motors, with current and velocity mode operation and options for +/-10V or PWM & Direction commands.
New Models: AZ60A8, AZB60A8, AZ60A8DDC, AZBDC60A8, AZBH60A8, AZBE60A8
Z-Drives are plug-in style servo drives from ADVANCED Motion Controls that mount directly to the PCB enabling fully integrated designs while simplifying wiring and installation. With a total of 72 models now available, Z-Drives come with a long list of options to meet every need including:
Digital and analog architectures
CANopen, RS232/485 and EtherCAT networks
Commands over the network or with I/O
Feedback including: TTL Encoders, 1Vp-p Encoders, Absolute Encoders and Hall sensors.
6-60A peak and 3-30A continuous
40-175 VDC
Extended Environment options
About ADVANCED Motion Controls®
ADVANCED Motion Controls, a U.S. company in business for 25 years now, was founded with the idea of designing and manufacturing lower cost / higher power density servo drives. The company's focus remains to create and deliver the best motion control drives for brushed or brushless servo motors. With over 2 million axes shipped, ADVANCED Motion Controls has become one of the fastest growing servo drive companies in the world!
With ADVANCED Motion Controls ... Everything's possible.