ADVANCED Motion Controls Releases the microMACC (micro-sized Motion Automation Control Card)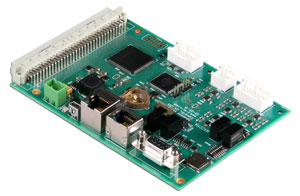 The µMACC is the newest addition to the ADVANCED Motion Controls® MACC controller family. It is designed to be a compact, low cost, controller for machine automation and/or process control applications. Based on the firmware loaded, the µMACC can control: up to 6 axes of servos or steppers via Pulse/Direction signals, servo drives via the CAN Bus, or 2 servo axes via PWM signals to digital servo drives.
Designed for general purpose applications (e.g. servo loops, data acquisition, etc.) the µMACC can act as a stand-alone controller or as a control interface between a PC running a Click&Move program and the motion control hardware.
Features
Newest addition to the AMC MACC family of controllers
Compact, low cost machine automation controller
Up to 6 axes of servo or stepper control
Control signals : pulse/dir , network over CAN Bus, PWM
Programmed with AMC's Click&Move IDE or directly in C. Standalone or tethered operation
On-board I/O can be expanded with 4 different types of pluggable, optional I/O modules
100Mbit Ethernet connection to PC and/or HMI
4K of non-volatile parameter storage
1MB of program storage
Customizable via firmware for OEM specific applications
Dimensions mm (in) 142.30 x 99.95 x 18.10(5.61 x 3.94 x 0.71)
Projected Industries & Applications
Lab Automation, Metrology, Machine Tool, Woodworking, Embedded Systems
About ADVANCED Motion Controls
ADVANCED Motion Controls, a U.S. company in business for 28 years now, was founded with the idea of designing and manufacturing lower cost / higher power density servo drives. The company's focus remains to create and deliver the best motion control drives for brushed or brushless servo motors. With over 2.5 million servo axes shipped, ADVANCED Motion Controls has become one of the fastest growing servo drive companies in the world!
With ADVANCED Motion Controls ... Everything's possible.
Company Contact
Rene Ymzon - Marketing
Tel: (805) 389-1935