ADVANCED Motion Controls releases the FM060-25-CM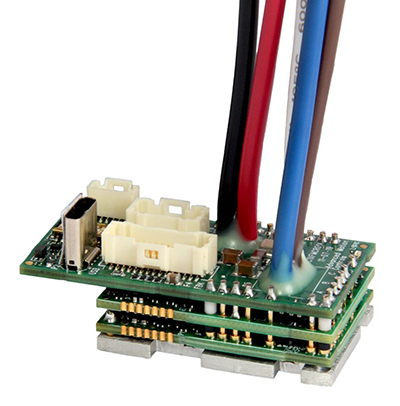 The FM060-25-CM is part of a new breed of micro-sized, high-power servo drives, immediately available from ADVANCED Motion Controls. Rated to output 25A continuous and 50A peak, this fully featured digital servo drive is small enough to fit in the tightest locations. It is ideally suited for mobile and portable applications such as mobile robotics, automated mobile robots (AMRs), AGVs, material handling, warehouse automation, lab automation and more.
The mounting footprint of the FM060-25-CM is 50.8mm x 25.4mm with a height of 22.1mm making it possible for up to 3 units to fit within the footprint of a standard business card. The FM060-25-CM uses CANopen for network communication. Along with this model are two lower current options, the FM060-10-CM rated to 10A continuous and FM060-5-EM rated to 5A continuous, designed to the same dimensions.
Features include:
50.8 x 25.4 x 22 mm (2 x 1 x 0.87 in)
10-55 VDC input
25 A continuous, 50 A peak for FE060-25-CM
10 A continuous, 20 A peak for FE060-10-CM
5 A continuous, 10 A peak for FE060-5-CM
Incremental encoder and BISS C-mode feedback
Torque, velocity, and position operating modes
Configuration and full loop tuning
The FM060-25-CM can be configured to work with any servo motor because the control loops for Current, Velocity and Position can be individually tuned to match the application's motor, load inertia, supply voltage and motion requirements.
Once configured for the system, the FM060-25-CM can be controlled over a CANopen network using PVT commands or profile motion commands. It can also be commanded using analog signals, indexes & sequences, step & direction, and encoder following. Despite its small size, no feature or capability has been spared when compared with full-sized counterparts.
About FlexPro
FlexPro® is AMC's newest family of digital servo drives. With cutting edge engineering, FlexPro® is meant to expand the capabilities of AMC's already powerful and diverse product selection. The IMPACT™ architecture allows FlexPro® servo drives to maintain the intelligence and power of larger-sized servo drives while fitting into much more compact packages.
About ADVANCED Motion Controls
ADVANCED Motion Controls, a U.S. company in business for over 33 years, was founded with the idea of designing and manufacturing lower cost / higher power density servo drives. The company's focus remains to create and deliver the best motion control drives for brushed or brushless servo motors. With approximately 3 million servo axes shipped, ADVANCED Motion Controls has become one of the fastest growing servo drive companies in the world!
For more information, contact Rene Ymzon, Marketing Manager, ADVANCED Motion Controls.