ADVANCED Motion Controls® introduces the PFC2400W375 – Power Supply with Power Factor Correction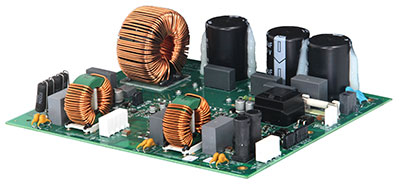 Available immediately is the PFC2400W375 power supply from ADVANCED Motion Controls.
The PFC2400W375 is a regulated DC power supply designed to feed 400V series servo drives with a low noise 375 VDC bus. Universal single-phase AC input 100-240 VAC / 50-60 Hz with power factor correction and low harmonic distortion along with soft starting circuitry guarantees global high performance reliable operation. This new power supply is designed to achieve power factor improvement, improve performance and ensure consistent operation regardless of the local power company's voltage levels and quality.
Features:
Nominal Input 100-240VAC @ 50/60Hz (86VAC Min, 264VAC Max)
Output 375VDC +/-2%
Continuous DC output current 6.4A @ 240VAC input
Efficiency at full load 97%
Power factor >0.95 @ 250W, up to >0.99 above 250W
Leakage current < 180µA @ 240VAC/60Hz
Built-in shunt regulation to handle excess regeneration
Min class A EMI without external line filter
5kV isolation to chassis/PE
Fault status logic output for power sequencing
Soft start pre-charging circuitry to limit the inrush current
Projected Industries & Applications:
Because of its energy-saving and therefore cost-saving capabilities, The PFC2400W375 is perfect for correcting the power for high voltage applications in manufacturing and material handling facilities with many machines. In farmed applications where dozens or hundreds of machines are installed in the same building, the AC waveform can degrade to the point where power distribution becomes inefficient. In severe cases without power factor correction, the AC service wires within the facility may need to be de-rated in order to carry the heavier load. Costs are increased due to the capital expense of upgrading the wiring or by reducing the facility's capacity (an opportunity loss), as well as increasing the electric bill because more power is needed to run the machines. If the distorted AC extends out of the building then the utility provider may also charge penalties. Using power supplies with power factor correction to prevent the waveform degradation is the best way to circumvent these problems.
About Power Supplies from ADVANCED Motion Controls
At AMC, our primary business is still servo drives and controls. However, as a convenience to our customers we have long maintained a line of unregulated power supplies that work with our servo drives. The PFC2400W375 is our first regulated power supply with power factor correction.
About ADVANCED Motion Controls
ADVANCED Motion Controls, a U.S. company in business for 31 years now, was founded with the idea of designing and manufacturing lower cost / higher power density servo drives. The company's focus remains to create and deliver the best motion control drives for brushed or brushless servo motors. With approximately 3 million servo axes shipped, ADVANCED Motion Controls has become one of the fastest growing servo drive companies in the world!
With ADVANCED Motion Controls ... Everything's possible.