ADVANCED Motion Controls® introduces Extended Environment FlexPro™ Digital Servo Drives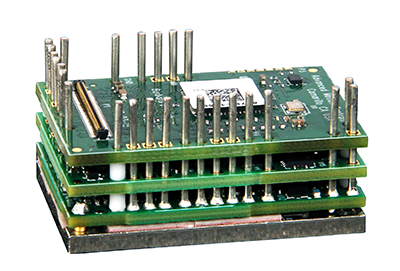 Available immediately from ADVANCED Motion Controls® are six new additions to the FlexPro™ servo drive family with Extended Environment capabilities. These include three Extended Environment FlexPro™ PCB-mount drives (denoted FXE) and three FlexPro™ machine-embedded drives (FXM).
Designed with compact form and power density in mind, the micro-sized FlexPro™ drives can outperform larger-sized digital servo drives and still be integrated into tight spaces. In addition, conformal coating, copper pins, and reinforced architecture allow these drives to operate in more extreme environmental conditions.
Features include:
38 x 25 x 16 mm (1.5 x 1 x 0.6 in) for FXE
51 x 25 x 26 mm (2 x 1 x 1.03 in) for FXM
10-55 VDC input
5 A continuous, 10 A peak for FXE060-5-EM and FXM060-5-EM
10 A continuous, 20 A peak for FXE060-10-EM and FXM060-10-EM
25 A continuous, 50 A peak for FXE060-25-EM and FXM060-25-EM
Ambient operating temperature range of -40°C to +95°C (-40°F to +203°F)
Thermal shock resistant for -40°C to +95°C (-40°F to +203°F) within 3 min.
Operates in 0 to 95% non-condensing relative humidity
Can handle vibrations up to 25 Grms for 5 min. in 3 axes
Incremental encoder and BISS C-mode feedback
Operates in altitudes from -400m to +25000m
Resistant to contamination up to pollution degree 2
Torque, velocity, and position operating modes
EtherCAT connectivity, inquire for CANopen, Ethernet/IP
Configuration and full loop tuning
IMPACT™ architecture
Projected Industries & Applications:
The small size of the FlexPro™ drives makes them perfect for cobots (collaborative robots), AGVs, portable devices, lab and warehouse automation, military equipment, and any other integrated design. The Extended Environment versions further expand their utility into harsh environments like the scorching desert, the open ocean, the edges of space, and the battlefield.
About FlexPro™
FlexPro™ is AMC's newest family of digital servo drives. With cutting edge engineering, FlexPro™ is meant to expand the capabilities of AMC's already powerful and diverse product selection. The IMPACT™ architecture allows FlexPro™ servo drives to maintain the intelligence and power of larger-sized servo drives while fitting into much more compact packages.
About Extended Environment
Since 2008, ADVANCED Motion Controls® has offered a selection of off-the-shelf Extended Environment servo drives designed to withstand extreme temperatures, high and low pressures, shocks, vibrations, humidity, dust, dirt, and contamination. AMC has also developed and produced custom and modified servo drives that exceed the power and/or environmental limits or our off-the-shelf Extended Environment products.
About IMPACT™
IMPACT™ (Integrated Motion Platform And Control Technology) is the architecture that makes AMC's FlexPro™ drives possible. The stacking of circuit boards with creative selection and placement of high-power components allows for much higher power density than previously produced servo drives. The expanded processing capabilities ensure the drive's intelligence is unmatched. IMPACT™ made its debut with FlexPro™. This technology will be used in subsequent FlexPro™ drives as well as any future custom products where it is desired.
About ADVANCED Motion Controls
ADVANCED Motion Controls, a U.S. company in business for over 32 years, was founded with the idea of designing and manufacturing lower cost / higher power density servo drives. The company's focus remains to create and deliver the best motion control drives for brushed or brushless servo motors. With approximately 3 million servo axes shipped, ADVANCED Motion Controls has become one of the fastest growing servo drive companies in the world!
With ADVANCED Motion Controls ... Everything's possible.