Advanced Motion Controls Introduces AZB10A4 and AZBDC10A4 µZ Servo Drives
ADVANCED Motion Controls® introduces µZ Servo Drives (Micro Z Servo Drives)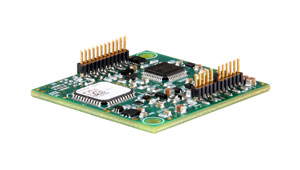 Available immediately are the AZB10A4 and AZBDC10A4 ultra-small analog plug-in brushless servo drives. The new µZ's are the smallest off-the-shelf servo drives from ADVANCED Motion Controls. Pronounced 'micro-Z' these plug-in drives are designed for embedded applications in a wide range of industries including: Robotics, Lab Automation, Homeland Security/Military, Electric Mobility, Medical and Packaging.
µZ servo drives are designed to drive brushless and brushed DC motors at a high switching frequency. To increase system reliability and to reduce cabling costs, the drives are designed for direct integration into your PCB. Weighing in at just 8.5 grams, µZ Drives output 10A peak and 5A continuous and operate with a bus voltage range of 10-36VDC.
Designed without the need for a heatsink, the µZ's are true featherweights with a high power to weight ratio. The µZ's are fully protected against over-voltage, under-voltage, over-current, over-heating, and short-circuits. Depending on the model, the drives interface with digital controllers that have analog ±10V or PWM/Direction commands. These servo drives require only a single unregulated isolated DC power supply, and are fully RoHS (Reduction of Hazardous Substances) compliant.
Features
Designed for direct board-to-board integration.
No heatsink and no need for additional heatsinking results in the smallest installed volume
Feather weight, 8.5 grams
Dimensions (in) 1.50 x 1.50 x 0.29
Dimensions (mm) 38.1 x 38.1 x 7.34
Large operational temperature range, 0-85C
Compatible with low inductance motors
AZB10A4 for ± 10V command signals
AZBDC10A4 for PWM/Direction command signals
Smallest form factor of any off-the-shelf servo drive from ADVANCED Motion Controls
40 kHz switching frequency
Projected Industries & Applications:
Robotics, Lab Automation, Homeland Security/Military, Electric Mobility, Medical, Packaging and all Embedded Systems

About ADVANCED Motion Controls
ADVANCED Motion Controls, a U.S. company in business for 25 years now, was founded with the idea of designing and manufacturing lower cost / higher power density servo drives. The company's focus remains to create and deliver the best motion control drives for brushed or brushless servo motors. With over 2 million axes shipped, ADVANCED Motion Controls has become one of the fastest growing servo drive companies in the world!

With ADVANCED Motion Controls ... Everything's possible.