Advanced Motion Controls - increased output capabilities from M/V™ Series motor controllers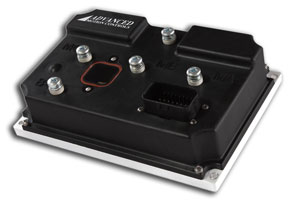 Models AB200A100 and AVB200A100 output 125A continuous and 200A peak for up to 10 seconds at voltages from 20-80VDC, a nearly 50% increase in operating voltage from previous models. Models AB100C200 and AVB100C200 output 100A continuous at voltages from 40-175VDC, a 25% increase in output current from previous models. The new additions maintain the same dimensions as their predecessors and bring to a total of 8 different models to choose from allowing engineers to use the additional output with no additional size constraints.
The M/V™ series motor controllers are fully functional, four-quadrant servo drives purpose designed and built to operate today's modern mobile electric vehicular platforms. Specific applications include: mobile robots, AGV's, UGV's, material handling and transport vehicles in both industrial and military environments. Providing high power from battery supplies with multiple operating modes, IP65 rating and compact design for either permanent magnet brushed or brushless motors, propels this motor controlling series ahead. Whether for traction / propulsion, steering, lifting or any other electrically driven actuation such as compressors, winches and hoists, the M/V™ series is the newest member in a long line of successful motor controlling solutions from ADVANCED Motion Controls.
About ADVANCED Motion Controls
ADVANCED Motion Controls, a U.S. company in business for 25 years now, was founded with the idea of designing and manufacturing lower cost / higher power density servo drives. The company's focus remains to create and deliver the best motion control drives for brushed or brushless servo motors. With over 2 million axes shipped, ADVANCED Motion Controls has become one of the fastest growing servo drive companies in the world!
With ADVANCED Motion Controls ... Everything's possible.