Advanced Motion Controls Expands their EtherCAT Product Offering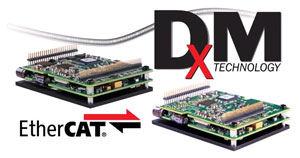 Camarillo, CA - ADVANCED Motion Controls announce the release of a full family of high performance EtherCAT Servo Drives. Models are available with AC (single or three phase) or DC inputs, from 7.5amp continuous (15A pk) to 50amp continuous (100A pk).
ADVANCED Motion Controls provides products for the fastest, most flexible form of industrial Ethernet control - EtherCAT®. High speed, deterministic control with standard 100 base-T hardware, EtherCAT is industry proven to achieve blazing fast, consistent results in demanding applications.
Extending the popular DigiFlex® Performance™ product line AMC's EtherCAT communication servo drives provide for multiple feedback devices in a variety of power platforms. ADVANCED Motion Controls EtherCAT products consist of panel mount and plug-in servo drives to allow for quick prototyping and ease of system integration. Panel mount DPE drives serve as nodes in single or multi-axis EtherCAT networks, while plug-in DZE/DZS drives utilize AMC's unique, proprietary high speed multi-axis communication interface and I/O expansion capabilities ('DxM'™ and 'DxI/O'™ Technologies). Now a single EtherCAT node can accommodate a combination of up to 4 axes of motion with 32 digital inputs, 32 digital outputs, 4 analog inputs, and 2 analog outputs each. The result is a highly integrated high value motion control solution for single or multi-axis applications. Key features include:
EtherCAT® Network Drives
CoE (CANopen over EtherCAT) device profile based on drives and motion control device profile, DSP-402
Programmable PDOs allow up to 16 receive and 16 transmit messages per drive per EtherCAT cycle.
Watchdog monitor disables the drive when communication is lost.
Cycle times down to 100 µs with jitter under 1 µs.
Auxiliary USB interface for commissioning and diagnostics.
Compatible feedback types: 5V TTL Encoder, 1Vpp Sin/Cos, Heidenhain or EnDat absolute encoders
'DxM'™ Technology
Allows control of up to 4 axes of servo motion from a single node on the EtherCAT network.
One DZEANTU (node) and up to three DZSANTU (sub-nodes) provide a low-cost multi-axis EtherCAT solution.
'DxI/O'™ Technology
Low-cost network I/O expansion solution.
Up to 70 additional digital and analog I/O points per axis – 280 additional I/O points in a 'DxM' configuration.
All of the expanded I/O accessible via PDOs on the EtherCAT network.
PR Contact
Warren Osak
Tel: 877-378-0240