ADVANCED Motion Controls® announces the release of DriveWare® 7.4.2 software for DigiFlex® Performance™ servo drives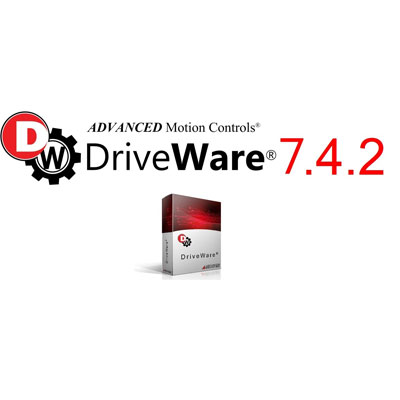 DriveWare® 7.4.2, the latest version of our free software tool for configuring ADVANCED Motion Controls DigiFlex® Performance™ servo drives, is available for immediate download.
This latest edition of DriveWare now includes stepper motor configuration, allowing users to easily configure drives to run stepper motors in addition to the servo motors that were previously supported. Two-phase stepper control is brand new to DriveWare, and three-phase stepper control now has direct support. A streamlined commutation algorithm makes initial configuration for steppers approximately 75% faster.
DriveWare 7.4.2 is designed to be backwards compatible with older drives and project files. Older project files will be updated automatically when opening them with DriveWare 7.4.2. Servo drives with older versions of firmware will be able to run stepper motors after they receive a firmware update upon connecting to DriveWare 7.4.2. This means any existing Digiflex Performance drive can now run stepper motors.
We've also added support in DriveWare for CANopen RPDO 27 and RPDO 28 for all our DPCANIA and DPCANTA drive models. These can be used to avoid sudden surges during motor startup, ensuring softer acceleration.
The latest version of DriveWare maintains the user-friendly interface, precise loop control, convenient oscilloscope, and powerful Motion Engine of previous versions. ADVANCED Motion Controls plans to continue updating DriveWare and adding more features over time.
Additional information is provided in the DriveWare Release Notes on the product page.
About DriveWare®
DriveWare is a software tool used to commission, troubleshoot, and integrate all ADVANCED Motion Controls DigiFlex Performance digital servo drives. All drive limits, control loops (current, velocity, and position), and event handling can be configured in DriveWare. Notable features include a fully functional multi-channel oscilloscope, function generator and user-friendly layout and interface.
DriveWare's powerful Motion Engine turns DigiFlex Performance servo drives into stand-alone smart drives. Up to 16 unique Index Tasks can be created with defined position, velocity and acceleration/deceleration values. Indexes can then be combined to form up to 16 different Sequences. The motion panel tool is used to execute Indexes and Sequences allowing machines to be controlled directly by the drive without an external controller.
For more product information, reference the web site at www.a-m-c.com/products/driveware.html or navigate to the DriveWare page by going to the main web site at www.a-m-c.com. DriveWare is available for free download at www.a-m-c.com/products/?page=product&id=DriveWare.
About ADVANCED Motion Controls
ADVANCED Motion Controls, a U.S. company in business for 31 years now, was founded with the idea of designing and manufacturing lower cost / higher power density servo drives. The company's focus remains to create and deliver the best motion control drives for brushed or brushless servo motors. With over 2.5 million servo axes shipped, ADVANCED Motion Controls has become one of the fastest growing servo drive companies in the world!
With ADVANCED Motion Controls ... Everything's possible.