ADVANCED Motion Controls® Announces the Release of DriveWare® 7.3 Software for DigiFlex® Performance™ Servo Drives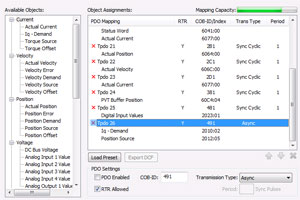 Available for immediate download, DriveWare® 7.3 (DW7.3) enables new capabilities in DigiFlex® Performance™ servo drives from ADVANCED Motion Controls®.
The DW7.3 user interface streamlines and simplifies setup and configuration of DigiFlex Performance digital servo drives. The color coded organization of the Drive Status screen helps quickly identify events and faults while the integrated help browser automatically highlights appropriate help topics in the table of contents. The caption and status bars provide immediate visibility of important settings such as mode, command source, bridge state, gain settings, feedback sources and more. Toolbars are organized into groups for common tasks such as standard navigation, drive configuration, command configuration and Motion Engine.
The powerful Motion Engine turns DigiFlex Performance servo drives into stand-alone smart drives. Up to 16 unique Index Tasks can be created with defined position, velocity and acceleration/deceleration values. Indexes can then be combined to form up to 16 different Sequences. The motion panel tool is used to execute Indexes and Sequences allowing machines to be controlled directly by the drive without an external controller.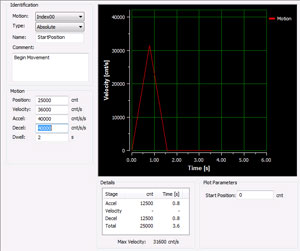 New DW7.3 Features:
Support for EnDat encoders. Drive model specific.
Support for Modbus TCP. Drive model specific.
Support for Modbus RTU. Drive model specific.
Enhancements to the sequencing configuration.
Debugging enhancements.
Improved commutation detection algorithm for motors with incremental feedback devices and no commutation sensors.
Improvements to digital output state handling during drive power-up.
Motion features include the ability to store two sets of Velocity and Position loop gains, the ability to store two configuration settings, on the fly mode switching, 4 programmable jogs and 16 programmable indexes.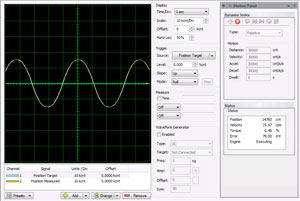 Network settings can be configured for CANopen, RS-485/232 and EtherCAT including the configuration, editing, and mapping of RPDOs and TPDOs. CANopen TPDOs can be assigned to specific drive events.
About DriveWare 7.3
DriveWare 7.3 software is used to commission, troubleshoot, and integrate all ADVANCED Motion Controls DigiFlex Performance digital servo drives. All drive limits, control loops (current, velocity, and position), and event handling can be configured in DriveWare 7.3. Notable features include a fully functional multi-channel oscilloscope, function generator and user friendly layout and interface.
About ADVANCED Motion Controls
ADVANCED Motion Controls, a U.S. company in business for 28 years now, was founded with the idea of designing and manufacturing lower cost / higher power density servo drives. The company's focus remains to create and deliver the best motion control drives for brushed or brushless servo motors. With over 2.5 million servo axes shipped, ADVANCED Motion Controls has become one of the fastest growing servo drive companies in the world! With ADVANCED Motion Controls ... Everything's possible.
Company Contact
Rene Ymzon - Marketing
Tel: (805) 389-1935