ADVANCED Motion Controls® Announces AxCent™ - Servo Drives for Centralized Motion Control Schemes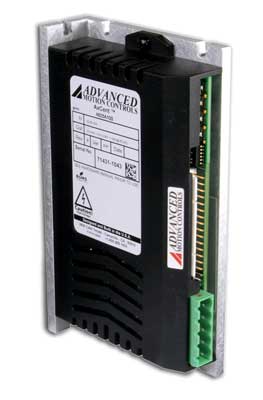 Available immediately are three new additions to the AxCent™ servo drive platform from ADVANCED Motion Controls. Models AB15A100, AB25A100 and AB20A200 are panel mount servo drives that operate with brushless (3Φ) permanent magnet motors as well as brushed (1Φ) motors and inductive loads.
Benefits include:
Application flexibility
More modes of operation in each unit
Built-in brushed and brushless compatibility
Expanded DIP-Switch tuning

Solderless solution to achieve optimal performance
Available for both current loop and velocity loop tuning

Quick response and high bandwidth
Encoder Velocity, Duty Cycle Feedback, and Current Modes on the same model
Custom modifications are readily available to supplement the standard offering.
The 3 new models weigh 249g (8.8oz), are controlled with +/-10V analog command signals and use trapezoidal commutation when driving brushless motors all in a panel mount package that's approximately 3" x 5" x 1" (75.8mm x 129.3mm x 25.1mm). The AB15A100 outputs 15A peak and 7.5A continuous with up to an 80VDC bus. The AB25A100 outputs 25A peak and 12.5A continuous with up to an 80VDC bus. The AB20A200 outputs 20A peak and 10A continuous with up to a 175VDC bus.
Advanced Tuning
Models AB15A100, AB25A100 and AB20A200 feature expanded DIP Switch tuning capabilities for current loop and velocity loop tuning. This solderless solution allows greater flexibility and optimization of system behavior.
The current loop integrator features switch settings for 16 distinct values, while the current loop proportional gain features 32 values. Together the current loop integrator and proportional gains can be adjusted to perfectly match the motor's electrical characteristics to ensure the maximum power transfer from the drive to the motor for increased performance and efficiency. An unstable current loop creates excess heat in the motor, while a properly tuned current loop increases efficiency and is the foundation for a highly responsive system.
The velocity loop integrator features 16 distinct tuning values and works together with a proportional gain potentiometer to achieve the performance and stability desired for each machine's unique inertia and resonance characteristics.
About AxCent™
The AxCent product platform encompasses the non-digital architecture servo drives from ADVANCED Motion Controls including: panel mount, pcb mount and vehicle mount servo drives. The quick response and high bandwidth of AxCent™ servo drives are targeted for centralized control schemes, hence Axes for Centralized Control. The AxCent product platform brings improvements to the design architecture that utilizes our years of experience in the industry and the latest advancements in modern servo system design.
Projected Industries & Applications
These new additions to the AxCent platform are perfect for industrial applications such as general machines, factory automation, material handling, packing, medical, lab automation and anywhere simple set up, consistent operation and robust designs are needed.
About ADVANCED Motion Controls
ADVANCED Motion Controls, a U.S. company in business for 28 years now, was founded with the idea of designing and manufacturing lower cost / higher power density servo drives. The company's focus remains to create and deliver the best motion control drives for brushed or brushless servo motors. With over 2.5 million servo axes shipped, ADVANCED Motion Controls has become one of the fastest growing servo drive companies in the world!
With ADVANCED Motion Controls ... Everything's possible.
Company Contact
Rene Ymzon, Marketing
Tel: (805) 389-1935