ADLINK's CoreModule® 720 PC/104-Plus Single Board Computer Named One of the 2012 Hot 100 Products by UBM Tech's EDN
rong>CoreModule 720 based on the Intel® Atom™ Processor E600T series for low power consumption in space-constrained, extreme rugged environments

San Jose, CA - ADLINK Technology, Inc., a leading global provider of ruggedized embedded products, today announced that EDN has named the CoreModule® 720 PC/104-Plus single board computer (SBC) as one of the "100 Hot Products of 2012." The 2012 EDN Hot 100 highlights the electronics industry's most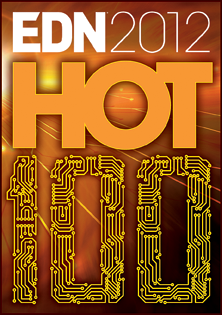 significant products of the year based on innovation, significance, usefulness, and popularity.

"It's gratifying to have our product recognized by a well-regarded third-party such as EDN," said Jeff Munch, CTO of ADLINK Technology. "As a standards-leader, ADLINK strives to raise the bar for rugged design so that our customers are able to create ever more innovative applications using compact form factor technology."

The Ampro by ADLINK™ Extreme Rugged™ CoreModule 720 is based on the Intel® Atom™ Processor E600T series from 600 MHz up to 1.6 GHz. The PC/104-Plus stackable form factor allows customers to build low power solutions for space constrained, extreme rugged environments. The SBC offers PCI and ISA bus connectivity, an integrated 4GB SSD, CAN bus, SATA, and a broad range of peripheral I/O support. Designed to meet stringent shock and vibration requirements, the CoreModule 720 uses 50% thicker printed circuit board (PCB) and supports an extended temperature range of -40°C to +85°C.

"It's always a fun and enlightening challenge for the EDN editors to select the year's Hot 100 products, which has been an annual tradition at EDN since 1993. This year's selection not only reflects some technology trends that have been in place for a while, but also highlights some new trends that are just emerging, as well as a unique product or two that is in a class of its own," said Rich Pell, executive and chief technical editor, EDN.

The complete list of EDN's Hot 100 products can be found online at http://www.edn.com/electronics-products/other/4401457/EDN-Hot-100-products-of-2012 or within tomorrow's issue of EDN Magazine.

About ADLINK
ADLINK Technology provides a wide range of embedded computing products and services to the test & measurement, automation & process control, gaming, communications, medical, network security, and transportation industries. ADLINK products include PCI Express-based data acquisition and I/O; vision and motion control; and AdvancedTCA, CompactPCI, and computer-on-modules (COMs) for industrial computing. With the acquisition of Ampro Computers, Inc. and LiPPERT Embedded Computers GmbH, ADLINK also provides a wide range of Rugged by Design products, including single board computers, computer-on-modules and systems.

ADLINK strives to minimize the total cost of ownership (TCO) of its customers by providing customization and system integration services, maintaining low manufacturing costs, and extending the lifecycle of its products. ADLINK is a global company with headquarters and manufacturing in Taiwan; R&D and integration in Taiwan, China, the US, and Germany; and an extensive network of worldwide sales and support offices.

ADLINK is ISO-9001, ISO-14001, ISO-13485 and TL9000 certified, is an Associate Member of the Intel® Intelligent System Alliance, an Executive Member of PICMG, a Sponsor Member of the PXI Systems Alliance, and a Strategic Member of the AXIe Consortium. ADLINK is a publicly traded company listed on the TAIEX Taiwan Stock Exchange (stock code: 6166).

About UBM Tech
UBM Tech is a global media business that provides information, events, training, data services, and marketing solutions for the technology industry. Its media brands and information services inform and inspire decision makers across the entire technology market— engineers and design professionals, software and game developers, solutions providers and integrators, networking and communications executives, and business technology professionals. UBM Tech's industry-leading media brands include EE Times, Interop, Black Hat, InformationWeek, Game Developer Conference, CRN, and DesignCon. The company's information products include research, education, training, and data services that accelerate decision making for technology buyers. UBM Tech also offers a full range of marketing services based on its content and technology market expertise, including custom events, content marketing solutions, community development and demand generation programs. UBM Tech is a part of UBM (UBM.L), a global provider of media and information services with a market capitalization of more than $2.5 billion.

Ampro by ADLINK, ADLINK Extreme Rugged, and ADLINK CoreModule are registered trademarks of ADLINK Technology. Intel and Core are registered trademarks of Intel® Corporation in the United States and other countries. All other trademarks are property of their respective owners.