ADLINK Releases Mac and Linux Drivers for USB DAQ Series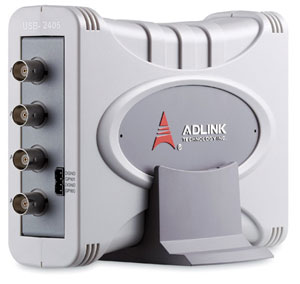 Extended support provides flexible development environment support
San Jose, CA – ADLINK Technology, Inc., a leading global provider of trusted testing and measurement products, has extended driver support for its USB DAQ Series from Microsoft® Windows to include Linux® and Mac OS X operating systems, increasing choices and flexibility for test and measurement users to develop their own specialized measurement and automation applications while reaping the benefits of different operating systems.
ADLINK's full spectrum of USB DAQ modules provides mainstream OS support, including Windows 7/8 (x86/ x64), Linux, and Mac operating systems, for more flexible and easy-to-use data acquisition for general purpose or direct connection with commonly used sensors. The resulting high-speed, increasingly accurate measurement is ideal for extremely portable and I/O expansion environments.
ADINK's USB-powered plug-and-play USB DAQ modules deliver easy connection and accurate results for both portable measurement and machine automation applications. Featuring built-in signal conditioning, ADLINK USB DAQ modules enable direct measurement of most frequently applied signal sources, reducing manpower requirements and associated development costs while increasing overall accuracy.
ADLINK's USB DAQ selections include the USB-1900 Series 8/16-CH 16-bit 250 kS/s modules; the USB-2401 4-CH 24-bit 2kS/s universal module for current input, strain gauge, load cell, thermocouple, and RTD measurement; the USB-1210 supporting 4-CH 16-bit simultaneous sampling at up to 2 MS/s per channel, suitable for high-speed ultrasound and optical sensor measurement; the USB-2405 with 24-bit 100 dB performance for audio and vibration testing; and the isolated USB Digital I/O Modules USB-7230/7250, suitable for high voltage control and monitoring applications.
About ADLINK
ADLINK Technology is enabling the Internet of Things (IoT) with innovative embedded computing solutions for edge devices, intelligent gateways and cloud services. ADLINK's products are application-ready for industrial automation, communications, medical, defense, transportation, and infotainment industries. Our product range includes motherboards, blades, chassis, modules, and systems based on industry standard form factors, as well as an extensive line of test & measurement products and smart touch computers, displays and handhelds that support the global transition to always connected systems. Many products are Extreme Rugged™, supporting extended temperature ranges, shock and vibration.
ADLINK is a Premier Member of the Intel® Internet of Things Solutions Alliance and is active in several standards organizations, including PCI Industrial Computer Manufacturers Group (PICMG), PXI Systems Alliance (PXISA), and Standardization Group for Embedded Technologies (SGeT).
ADLINK is a global company with headquarters in Taiwan and manufacturing in Taiwan and China; R&D and integration in Taiwan, China, the US, and Germany; and an extensive network of worldwide sales and support offices. ADLINK is ISO-9001, ISO-14001, ISO-13485 and TL9000 certified and is publicly traded on the TAIEX Taiwan Stock Exchange (stock code: 6166).
Company Contact
Monica Lanctot
Tel: +1 408 360 4337
Embedded Vision
This content is part of the Embedded Vision curated collection. To learn more about Embedded Vision,
click here
.