ADLINK Launches New Open Modular Architecture for Industrial Cloud Computing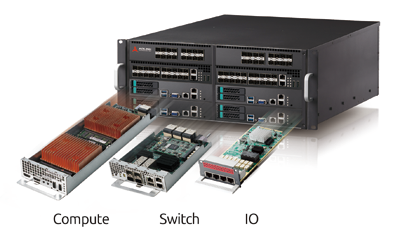 Modular Industrial Cloud Architecture (MICA) is the next generation of cloud computing technology, optimizing performance, cost and space for COTS platforms
San Jose, CA – ADLINK Technology, a leading global provider of cloud-based services, intelligent gateways, and embedded building blocks for edge devices that enable the Internet of Things (IoT), today introduced Modular Industrial Cloud Architecture (MICA). This new industrial IoT architecture for commercial off-the-shelf (COTS) platforms features a design aimed at optimizing performance, cost and space requirements for the next generation of industrial IOT solutions. ADLINK's MICA industrial-grade platform is designed to support the native virtualization requirements for software-defined networking (SDN) and network function virtualization (NFV), while integrating a wide range of the latest hardware acceleration technologies to boost the processing of network packets and video streams. All this functionality is offered on an open, modular computing architecture, allowing users to redefine resource allocation for cloud computing applications.
The strategy behind MICA platforms is to introduce the latest data center technology to industrial telecom computing. The MICA name implies the main characteristics of the platform: modular design, industrial carrier-grade features, and cloud-oriented design.
The MICA platform is an Application Ready Intelligent Platform (ARIP) for industrial cloud computing. It supports ADLINK's PacketManager, network traffic management software that accelerates and enriches packet processing capabilities on telecom, networking, and security equipment. It also supports ADLINK's MediaManager software, designed to provide the fastest possible performance for video editing and processing, media conversion, streaming, playback, and video conferencing.
"ADLINK intends to build a versatile industry ecosystem based on this open architecture. We hope to establish a foundation for industrial cloud computing that allows more industry partners to collaborate and innovate,' said Yong Luo, General Manager of ADLINK's Embedded Computing Product Segment.
MICA adopts an innovative modular design for upgraded scalability and flexibility. Customers can choose from different functional modules (compute, switch, storage, and IO modules) depending on their specific application requirements to build a highly tailored computing platform. The hybrid design allows customers to mix and match between 1/4 and 1/2-width slot compute nodes in order to scale the number of independent systems with different processing capacities in the platform, as needed.
MICA adopts industrial-grade design for higher density, rich I/O capacity, PCIe backplane throughput, and lower latency. All modules offer redundancy and hot-plugging. In addition, IO modules support advanced LAN bypass features, and – in order to meet the high bandwidth requirements of future 5G networks – each computing module is designed to support dual 64G bandwidth, with even higher bandwidth support available through expansion IO cards.
MICA is designed for industrial cloud computing with native virtualization for SDN/NFV. For SDN, MICA switch modules use larger TCAM tables to implement L2/L3/L4 fast packet forwarding using OpenFlow. For NFV, MICA switch modules and network cards support hardware-accelerated processing for NVGRE and VXLAN tunnel protocols. MICA designs also integrate a wide range of the latest hardware acceleration technologies to boost the processing of network packets and video streams.
ADLINK's MICA is a delivery system for the latest telecom, networking security, and intelligent video surveillance services. The platform offers a complete solution, with optimized stacks, high throughput, and an expanding partner ecosystem for mix-and-match hardware and software configurations. MICA provides computing modules based on Intel® Core™/Xeon® and other processor-based boards, switch modules, storage modules and IO modules, and can be easily customized and scaled based on customer needs. MICA platforms provide a variety of rack-mount form factors, like 2U, 4U and many others, truly scalable from rack mount to rack scale, enabling different computing capacity for different stages of a project.
About ADLINK
ADLINK Technology is enabling the Internet of Things (IoT) with innovative embedded computing solutions for edge devices, intelligent gateways and cloud services. ADLINK's products are application-ready for industrial automation, communications, medical, defense, transportation, and infotainment industries. Our product range includes motherboards, blades, chassis, modules, and systems based on industry standard form factors, as well as an extensive line of test & measurement products and smart touch computers, displays and handhelds that support the global transition to always connected systems. Many products are Extreme Rugged™, supporting extended temperature ranges, shock and vibration.
ADLINK is a Premier Member of the Intel® Internet of Things Solutions Alliance and is active in several standards organizations, including PCI Industrial Computer Manufacturers Group (PICMG), PXI Systems Alliance (PXISA), and Standardization Group for Embedded Technologies (SGeT).
ADLINK is a global company with headquarters in Taiwan and manufacturing in Taiwan and China; R&D and integration in Taiwan, China, the US, and Germany; and an extensive network of worldwide sales and support offices. ADLINK is ISO-9001, ISO-14001, ISO-13485 and TL9000 certified and is publicly traded on the TAIEX Taiwan Stock Exchange (stock code: 6166).
Company Contact
Monica Lanctot
Tel: +1 408 360 4337
Embedded Vision
This content is part of the Embedded Vision curated collection. To learn more about Embedded Vision,
click here
.