ADLINK Launches High Performance, Fully-Sealed Medical-Grade Panel PC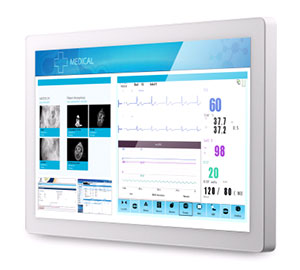 MLC 4-21 offers fanless design to meet the needs of healthcare facilities and provide easy access to patient data
SAN JOSE, CA – ADLINK Technology, a leading global provider of cloud-based services, intelligent gateways, and embedded building blocks for edge devices that enable the Internet of Things (IoT), announced its new medical panel PC, the MLC 4-21, equipped with 4th generation Intel® Core™ i7/i5 processor to provide exceptional computing power and multitasking capabilities. The MLC 4-21 is completely fanless, and the fully-sealed housing has only flat surfaces—with no grooves or joints--to ensure fast, easy and effective cleaning. The MLC 4-21 is approved for IEC/EN60601-1 (4th Edition) and IEC/EN60601-1-2 medical patient safety certifications.
Designed for point-of-care
The MLC 4-21 offers a 21.5" capacitive touchscreen with full HD resolution (1920x1080) and anti-glare coating for enhanced viewing capability. Multi-touch gesture control is supported, even when wearing protective gloves. The fully-sealed aluminum housing protects against dust and liquid intrusion during normal operation in patient care or operating rooms, and also accommodates the use of all commonly used disinfectants and cleaning agents. In contrast to standard PCs, the MLC 4-21 panel PC's sealed, gap-free flat surface housing and fanless design prevents accumulation of microbes to maintain the hygienic conditions necessary in medical environments.
Powerful and advanced functionality
The MLC 4-21 is equipped with the 4th generation Intel® Core™ i7/i5 processor, delivering an outstanding balance of CPU/media performance and low power consumption, along with enhanced security and I/O flexibility. Wireless connectivity via both Wi-Fi and Bluetooth are supported to provide flexible usage in a wide range of application settings. Designed to meet the demanding needs of healthcare facilities requiring accurate medical imaging and easy access to patient data, the MLC 4-21 provides two HDMI ports and one VGA output as standard equipment to support a flexible arrangement of external monitors as required by specific patient care applications. Standard interfaces include two USB 2.0, two USB 3.0, and audio ports.
Increased safety for healthcare operators and patients
The MLC 4-21 is available with galvanic isolated COM ports and/or LAN ports to connect to medical devices. The MLC 4-21 is also designed with electromagnetic emission shielding, minimizing interference with other equipment in accordance with IEC-60601-1-2.
About ADLINK
ADLINK Technology is enabling the Internet of Things (IoT) with innovative embedded computing solutions for edge devices, intelligent gateways and cloud services. ADLINK's products are application-ready for industrial automation, communications, medical, defense, transportation, and infotainment industries. Our product range includes motherboards, blades, chassis, modules, and systems based on industry standard form factors, as well as an extensive line of test & measurement products and smart touch computers, displays and handhelds that support the global transition to always connected systems. Many products are Extreme Rugged™, supporting extended temperature ranges, shock and vibration.
ADLINK is a Premier Member of the Intel® Internet of Things Solutions Alliance and is active in several standards organizations, including PCI Industrial Computer Manufacturers Group (PICMG), PXI Systems Alliance (PXISA), and Standardization Group for Embedded Technologies (SGeT).
ADLINK is a global company with headquarters in Taiwan and manufacturing in Taiwan and China; R&D and integration in Taiwan, China, the US, and Germany; and an extensive network of worldwide sales and support offices. ADLINK is ISO-9001, ISO-14001, ISO-13485 and TL9000 certified and is publicly traded on the TAIEX Taiwan Stock Exchange (stock code: 6166).
Company Contact
Angela Iskander-Torres - Senior Marketing Communications Specialist
Tel: 408.360.4360