ADLINK Launches 3U CompactPCI® Serial 4th/5th Generation Intel® Core™ Processor Blade with ECC Memory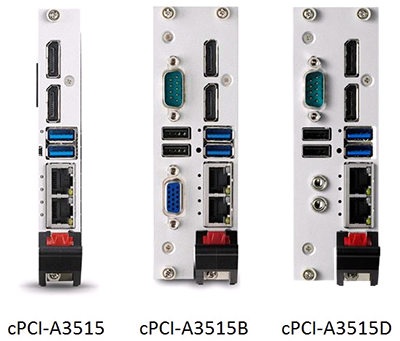 First ADLINK processing blade supporting the CompactPCI Serial standard for high-speed data throughput
SAN JOSE, CA – ADLINK Technology, Inc., a leading global provider of cloud-based services, intelligent gateways, and embedded building blocks for edge devices that enable the Internet of Things (IoT), introduces the cPCI-A3515, the company's first product in a new series of CompactPCI® Serial processor blades. This new 3U module features an Intel® Core™ processor and supports the CompactPCI Serial industry standard for applications requiring reliable high-speed, high-bandwidth data communications, such as railways, factory automation, and defense.
The PICMG CPCI-S.0 CompactPCI Serial standard, which evolved from the PICMG 2.0 specification, is the fastest, most versatile, most cost-effective open standard for CompactPCI (CPCI). The Serial standard is mechanically and electronically compatible with 3U and 6U euro-cards, defining an interface for high-speed switched fabrics with a star topology. Point-to-point connectors allow up to eight peripherals on one system slot without switches or bridges. Ethernet data transfer can be configured with full mesh topology, which allows up to 1000Base-T connections to all peripheral slots for redundant, safety-critical systems.
"ADLINK offers cost-effective migration by providing a bridge adapter for existing CPCI I/O cards. An upgrade to the CompactPCI Serial standard on ADLINK embedded modules requires only an upgrade to the new Serial CPU blades," said Yong Luo, general manager of ADLINK's embedded computing product segment.
Customers may test the new serial interface on their systems by using ADLINK's starter kit, which includes the CPU board, I/O cards, fanless chassis, backplane, and power supply.
The Serial standard extends parallel PCI with serial PCI Express, SATA, Ethernet, and USB, and supports transfer speeds up to 600 Gb/s. ADLINK's cPCI-A3515 offers extensive data throughput options with PCIe interfaces that include one PCIe x8, two PCIe x4, and three PCIe x1. Four 6 Gb/s SATA interfaces and up to ten USB 2.0/3.0 ports are also available. Rear I/O features up to eight 1000Base-T Gigabit Ethernet connections to compatible backplanes, which may be either hybrid or CPCI 2.0/S.0 commercial-off-the-shelf. Front I/O includes two display ports, two USB 3.0, and two Gigabit Ethernet ports, as well as an option for two USB 2.0, one RS-232/422/485, and one VGA port.
ADLINK's new CompactPCI Serial processor blade features a quad-core 4th/5th generation Intel® Core™ i7 processor with up to 16 GB dual-channel DDR3L soldered ECC-type SDRAM. The QM87 chipset with AMO EFI BIOS and 128 Mbit SPI flash memory supports Microsoft Windows 7/8, Red Hat Enterprise Linux 6.6/7.0, Windows Embedded Standard 7, VxWorks, and QnX OSes. Intel Hyper-Threading and Turbo Boost Technology, VT-x, VT-D, and v-Pro Technology are also included.
In addition, the cPCI-A3515 offers increased robustness with an extended operating temperature range of minus 40 to 85 degrees Celsius, maintained support for hot swapping, and ADLINK's Smart Embedded Management Agent (SEMA).
SEMA provides detailed system data at the device level, including temperature, voltage, power consumption, and other key information. Access to system activities allows operators to identify inefficiencies and malfunctions in real-time, thus preventing failures and minimizing downtime. ADLINK's SEMA-equipped devices connect seamlessly to the SEMA Cloud to enable remote monitoring. All collected data, including sensor measurements and management commands, are accessible from any place, at any time through an encrypted connection.
ADLINK Technology
ADLINK Technology is enabling the Internet of Things (IoT) with innovative embedded computing solutions for edge devices, intelligent gateways and cloud services. ADLINK's products are application-ready for industrial automation, communications, medical, defense, transportation, and infotainment industries. Our product range includes motherboards, blades, chassis, modules, and systems based on industry standard form factors, as well as an extensive line of test & measurement products and smart touch computers, displays and handhelds that support the global transition to always connected systems. Many products are Extreme Rugged™, supporting extended temperature ranges, shock and vibration.
ADLINK Technology is a premier member of the Intel® Internet of Things Solutions Alliance. The company is also active in several standards organizations, including PCI Industrial Computer Manufacturers Group (PICMG), PXI Systems Alliance (PXISA), and Standardization Group for Embedded Technologies (SGeT).
ADLINK is a global company with headquarters in Taiwan and manufacturing in Taiwan and China; R&D and integration in Taiwan, China, the US, and Germany; and an extensive network of worldwide sales and support offices. ADLINK is ISO-9001, ISO-14001, ISO-13485 and TL9000 certified and is publicly traded on the TAIEX Taiwan Stock Exchange (stock code: 6166).
Embedded Vision
This content is part of the Embedded Vision curated collection. To learn more about Embedded Vision,
click here
.