ADLINK Introduces Thin Mini-ITX Embedded Board, AmITX-BW-I, for Space-constrained Applications
Flexible design offers rich I/O options and choice of processors to target digital signage boxes, vending machines, small POS systems and portable medical devices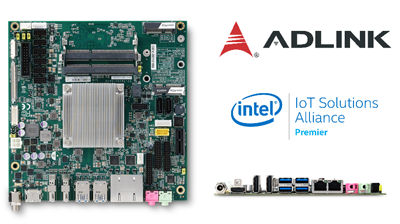 Taipei, Taiwan – ADLINK Technology, Inc., a leading global provider of cloud-based services, intelligent gateways, and embedded building blocks for edge devices that enable the Internet of Things (IoT), introduces the AmITX-BW-I, the company's first thin Mini-ITX embedded board. For flexible embedded application development, the AmITX-BW-I offers enhanced display features with Intel® Gen 8 LP HD Graphics in a low profile and scalable design.
The thin Mini-ITX form factor is the "premier standard for designing and assembling all-in-one PCs," according to Intel. Measuring 170 mm square and less than 25 mm thick, the AmITX-BW-I fulfills requirements for applications in digital signage, infotainment, medical, and industrial automation that are running in limited-space environments. ADLINK's first thin Mini-ITX board also follows the Form, Fit, Function design principle to offer standardized pinout locations and is compatible with the Micro-ATX and regular ATX chassis.
"The AmITX-BW-I extends our Mini-ITX product range for high performance systems. With its enhanced graphics, compact size, and Windows 10 support, this new board offers embedded developers unsurpassed flexibility and cost-effectiveness in the long term," said Henk van Bremen, senior director of the ADLINK Module Computing Product Segment.
With low-latency, high-resolution video imaging, the AmITX-BW-I features the Intel® Atom™ x5-E8000 processor and is designed for graphics-intense applications such as infotainment, medical imaging, and industrial automation. Intel® Gen 8 LP HD Graphics supports three independent 4K displays and provides full hardware acceleration for encoding/decoding of HEVC H.265, H.264/263, SVC, AVS, VP8/9, and MPEG4. Video and 3D rendering is enhanced by DirectX 11.1, OpenGL 4.2, ES 3.0, and OpenCL 1.2.
The AmITX-BW-I supports high bandwidth connectivity with two single-lane PCIe bus interfaces. These deliver reliable Gigabit Ethernet for gaming, retail services, ATMs, slot machines, and kiosks. One Mini PCIe slot, one mSATA slot, and one SIM card slot are also available. A range of high-speed I/O, including two SATA 6 Gb/s ports, enables real-time data processing and sharing for medical imaging and diagnostics applications.
Board connectors include four rear USB 3.0, two front-panel USB 2.0, and two USB 2.0 onboard headers. The board also features four serial RS-232 ports, two serial RS-232/422/485 ports, a unique socketed SPI BIOS chip and SPI module, and a header for an optional TPM module.
The AmITX-BW-I embedded board is equipped with ADLINK's Smart Embedded Management Agent (SEMA) to provide detailed system data at the device level, including temperature, voltage, power consumption, and other key information. Access to system activities allows operators to identify inefficiencies and malfunctions in real-time, thus preventing failures and minimizing downtime. ADLINK's SEMA-equipped devices connect seamlessly to the SEMA Cloud to enable remote monitoring. All collected data, including sensor measurements and management commands, are accessible from any place, at any time through an encrypted connection.
The AmITX-BW-I will be available in late April. For more information on this and other ADLINK Mini-ITX solutions, please visit us online.
ADLINK Technology
ADLINK Technology is enabling the Internet of Things (IoT) with innovative embedded computing solutions for edge devices, intelligent gateways and cloud services. ADLINK's products are application-ready for industrial automation, communications, medical, defense, transportation, and infotainment industries. Our product range includes motherboards, blades, chassis, modules, and systems based on industry standard form factors, as well as an extensive line of test & measurement products and smart touch computers, displays and handhelds that support the global transition to always connected systems. Many products are Extreme Rugged™, supporting extended temperature ranges, shock and vibration.
ADLINK Technology is a premier member of the Intel® Internet of Things Solutions Alliance. From modular components to market-ready systems, Intel and the 350+ global member companies of the Alliance provide scalable, interoperable solutions that accelerate deployment of intelligent devices and end-to-end analytics. Close collaboration with Intel and each other enables Alliance members to innovate with the latest technologies, helping developers deliver first-in-market solutions. The company is also active in several standards organizations, including PCI Industrial Computer Manufacturers Group (PICMG), PXI Systems Alliance (PXISA), and Standardization Group for Embedded Technologies (SGeT).
ADLINK is a global company with headquarters in Taiwan and manufacturing in Taiwan and China; R&D and integration in Taiwan, China, the US, and Germany; and an extensive network of worldwide sales and support offices. ADLINK is ISO-9001, ISO-14001, ISO-13485 and TL9000 certified and is publicly traded on the TAIEX Taiwan Stock Exchange (stock code: 6166).
Embedded Vision
This content is part of the Embedded Vision curated collection. To learn more about Embedded Vision,
click here
.