ADLINK Introduces New Products Based on 6th Generation Intel® Core™ and Latest Intel® Xeon® Processors for High Performance Computing & Graphics Applications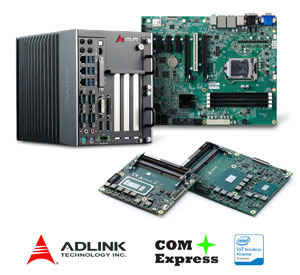 New products will be offered in a variety of major form factors, including COM Express, Mini-ITX and fanless embedded computers
SAN JOSE, CA – ADLINK Technology, Inc., a leading global provider of cloud-based services, intelligent gateways, and embedded building blocks for edge devices that enable the Internet of Things (IoT), today announced the first of fourteen new products in various form factors based on the 6th generation Intel® Core™ i7/i5/i3 processors (codename Skylake) and latest Xeon® processors, coming to market in the second half of 2015 and early 2016. These current Intel® processor-based offerings feature an updated 14nm microarchitecture and added support for Ultra HD 4K resolution displays. ADLINK's new offerings include COM Express® computer-on-modules in both Compact and Basic sizes, a fanless embedded computer, and Mini-ITX and ATX industrial grade motherboards.
"Utilizing Intel's core strengths in computing and graphics innovation, ADLINK has developed embedded building blocks and platforms to better address the increasing demand for high performance deployments," said Roy Wan, general manager of ADLINK's Measurement & Automation Product Segment. "Added support for Ultra HD 4K is evidence that Intel recognizes the importance of strong graphics and GPGPU capabilities that are necessary in today's embedded applications."
"This latest CPU tock not only brings lower power envelopes but also doubles memory capacity by supporting 32GB memory DDR4 modules, which is an important feature for space-constrained systems with increased density and reduced power consumption," said Dirk Finstel, executive vice president of ADLINK's Module Computing Product Segment. "In addition, support for JTAG over USB 3.0 allows for chip-level debugging without requiring direct access to the processor, which is something every embedded designer will appreciate."
"Our 6th generation Intel® Core™ and Intel® Xeon® processors exceed customer expectations for computing and graphics performance while offering new, faster DDR4 memory support and additional high speed I/Os to enable next gen IoT applications," said Samuel Cravatta, product line director, Internet of Things Group, Intel. "We've also focused on security with Intel® Boot Guard, Intel® Secure Guard Extensions, and Intel® Memory Protection Extensions to help prevent systems threats from malware, protect sensitive data from rogue software, and prevent malicious attacks using buffer overflows."
ADLINK's COM Express computer-on-module (COM) offerings include the cExpress-SL and Express-SL in PICMG COM.0 Type 6 Compact and Basic Size form factors, respectively. Both Basic and Compact size modules are available with 6th generation Intel® Core™ i7, i5 or i3 processors and accompanying Intel® QM170 and HM170 Chipset. ECC memory is supported by models utilizing the Intel® Xeon® processor E3-15XX v5 family and Intel® CM236 chipset. DDR4 memory is supported up to a total of 32GB, with a lower voltage compared to DDR3 resulting in a reduction in overall power consumption and heat dissipation. These new COMs also provide support for three independent UHD/4K displays and are well-suited for applications in automation, medical, and infotainment, with extended operating temperature range optionally available for transportation and defense applications.
The ADLINK MXC-6400 series of rugged, fanless embedded computers is based on the 6th generation Intel® Core™ i7-6820EQ, Intel® Core™ i5-6440EQ or Intel® Core™ i3-6100E processor with Mobile Intel® QM170 Chipset. Rich I/O includes 2x Mini PCIe, 1x USIM, 6x USB 3.0 ports plus an internal USB 2.0 port. The MXC-6400 series supports up to three independent displays with UHD/4K resolution support and up to four hot-swappable SATA 6 GB/s, as well as internal SATA 6 GB/s ports. An extended fanless operating temperature range of -20°C to 70°C is available (Intel® Core™ i5/i3 processor models with industrial SSD) to support applications in harsh transportation or industrial automation environments.
ADLINK also offers the IMB-M43 ATX industrial motherboard based on the 6th Generation Intel® Core™ i7-6700 and Intel® Q170 Express Chipset to provide high-speed data transfer interfaces such as PCIe Gen3, USB 3.0 and SATA 6 Gb/s. The IMB-M43 supports dual-channel DDR4 2133 MHz memory up to a maximum of 64 GB in four DIMM slots. To deliver a scalable, high performance platform for machine automation systems, machine vision systems, and test & measurement applications, the IMB-M43 supports fully flexible expansion with a variety of PCI and PCIe configurations available. The robust I/O design guarantees reliable and secure high-speed data transmission, supporting USB 3.0, LAN and SATA.
Finally, the versatile ADLINK AmITX-SL-G Mini-ITX embedded motherboard is based on the 6th Generation Intel® Core™ i7/i5/i3 and Pentium® desktop processors with Intel® Q170/H110 Chipset and offers dual DDR4 SODIMM memory sockets. The AmITX-SL-G is specifically designed for customers who need high-level processing and graphics performance with a long product life solution. It features three DisplayPort outputs, dual Gigabit Ethernet ports, USB 3.0 & USB 2.0 ports, SATA 6 Gb/s ports, and High Definition Audio with 7.1 channels. Features of the AmITX-SL-G include expansion capability via one PCIe x16, one PCIe x1, and two Mini PCIe slots; support for GPIO, SMBus, and I2C; and AMI EFI BIOS providing embedded features such as hardware monitoring and watchdog timer.
All new products are equipped with ADLINK's Smart Embedded Management Agent (SEMA) to provide access to detailed system activities at the device level, including temperature, voltage, power consumption and other key information, and allow operators to identify inefficiencies and malfunctions in real-time, thus preventing failures and minimizing downtime. ADLINK's SEMA-equipped devices connect seamlessly to our SEMA Cloud solution to enable remote monitoring, autonomous status analysis, custom data collection, and initiation of appropriate actions. All collected data, including sensor measurements and management commands, are accessible any place, at any time via encrypted data connection.
About ADLINK
ADLINK Technology is enabling the Internet of Things (IoT) with innovative embedded computing solutions for edge devices, intelligent gateways and cloud services. ADLINK's products are application-ready for industrial automation, communications, medical, defense, transportation, and infotainment industries. Our product range includes motherboards, blades, chassis, modules, and systems based on industry standard form factors, as well as an extensive line of test & measurement products and smart touch computers, displays and handhelds that support the global transition to always connected systems. Many products are Extreme Rugged™, supporting extended temperature ranges, shock and vibration.
ADLINK is a Premier Member of the Intel® Internet of Things Solutions Alliance and is active in several standards organizations, including PCI Industrial Computer Manufacturers Group (PICMG), PXI Systems Alliance (PXISA), and Standardization Group for Embedded Technologies (SGeT).
ADLINK is a global company with headquarters in Taiwan and manufacturing in Taiwan and China; R&D and integration in Taiwan, China, the US, and Germany; and an extensive network of worldwide sales and support offices. ADLINK is ISO-9001, ISO-14001, ISO-13485 and TL9000 certified and is publicly traded on the TAIEX Taiwan Stock Exchange (stock code: 6166).
Company Contact
Angela Iskander-Torres - Senior Marketing Communications Specialist
Tel: 408.360.4360
Embedded Vision
This content is part of the Embedded Vision curated collection. To learn more about Embedded Vision,
click here
.