ADLINK Introduces New 4-CH 12-bit 80 MS/s PCI Express Digitizer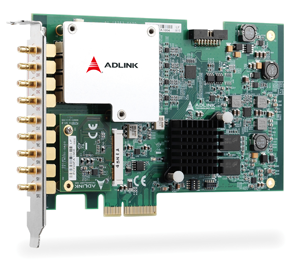 Higher sampling rate and value-add functionality make the PCIe-9814 an ideal solution for radar testing.
SAN JOSE, CA – ADLINK Technology, Inc., a leading global provider of cloud-based services, intelligent gateways, and embedded building blocks for edge devices that enable the Internet of Things (IoT), today announced the release of its new high-speed PCI Express digitizer, the PCIe-9814, featuring four simultaneously sampled 80 MS/s input channels with 12-bit resolution, 40 MHz bandwidth, and up to 1 GB DDR3 onboard memory. The PCIe-9814 delivers compellingly accurate high dynamic performance in 76 dB SFDR, 64 dB SNR, and -75 dB THD, with up to 640 MB/s data streaming and value added functionality, enhanced price/performance, and maximum optimization for radar testing, power management monitoring, and non-destructive testing.
The PCIe-9814's 80 MS/s sampling & 40 MHz signal bandwidth easily meet the requirements of medium frequency (0.1mHz to 30mHz) radar signal reception from IF radar receivers. The PCIe-9814 provides external digital trigger input for synchronous trigger radar signaling, while three extra synchronous digital inputs receive radar synch pulse signals or GPS IRIG-B code to support radar signal markers or synchronous time stamping used in radar testing.
The PCIe-9814's FPGA-based 31-order FIR digital filter supports noise reduction when signal content is 20 MHz or less. Noise effects are reduced efficiently and signal visibility increased by rejecting out-of-band and background noise and unexcepted high frequency signals, all with no extra programming demands. The FPGA-based FIR digital filter performs much faster than on the host, with no host CPU bandwidth occupied.
The PCIe-9814 supports Windows 8 and Windows 7 operating systems and is fully compatible with third-party software such as LabVIEW™ and Visual Studio.NET®. In addition, ADLINK's measurement APIs allow easy conversion of basic voltage/time measurement results with no need for extra programming. System development is easier than ever before.
About ADLINK
ADLINK Technology is enabling the Internet of Things (IoT) with innovative embedded computing solutions for edge devices, intelligent gateways and cloud services. ADLINK's products are application-ready for industrial automation, communications, medical, defense, transportation, and infotainment industries. Our product range includes motherboards, blades, chassis, modules, and systems based on industry standard form factors, as well as an extensive line of test & measurement products and smart touch computers, displays and handhelds that support the global transition to always connected systems. Many products are Extreme Rugged™, supporting extended temperature ranges, shock and vibration.
ADLINK is a Premier Member of the Intel® Internet of Things Solutions Alliance and is active in several standards organizations, including PCI Industrial Computer Manufacturers Group (PICMG), PXI Systems Alliance (PXISA), and Standardization Group for Embedded Technologies (SGeT).
ADLINK is a global company with headquarters in Taiwan and manufacturing in Taiwan and China; R&D and integration in Taiwan, China, the US, and Germany; and an extensive network of worldwide sales and support offices. ADLINK is ISO-9001, ISO-14001, ISO-13485 and TL9000 certified and is publicly traded on the TAIEX Taiwan Stock Exchange (stock code: 6166).
Company Contact
Angela Iskander-Torres
Tel: +1 408 360 4360