ADLINK Introduces Network Appliance with Eight Network Interface Module Slots, Flexible I/O Allocation for Communications and Data Applications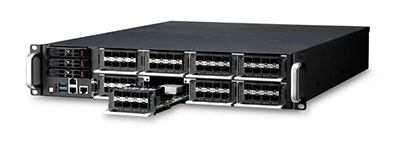 CSA-7200 2U rackmount appliance is ADLINK's first product offering built with Modular Industrial Cloud Architecture to enable flexible configurations
SAN JOSE, CA – ADLINK Technology, Inc., a leading global provider of cloud-based services, intelligent gateways, and embedded building blocks for edge devices that enable the Industrial Internet of Things (IIoT), today introduced our latest network appliance with the most flexible I/O options currently available on the market. With eight NIM (Network Interface Module) slots and five 2.5'' HDD drive bays, the CSA-7200 offers extended configuration possibilities for the network security market and is our initial network appliance built using MICA (Modular Industrial Cloud Architecture), which enables fast reconfiguration and reduces time-to-market for new applications.
The CSA-7200 is based on the Intel® Xeon® E5-2600 v3/v4 workstation platform and offers a highly scalable design in a compact 2U rackmount form factor for packet inspection, firewall, load balancer, network monitoring, security gateway and voice gateway applications. The CSA-7200 includes flexible storage options: three hot-swappable 2.5-inch SATA drive bays, and two M.2 PCIe/SATA solid-state drives for extra storage. Eight NIM expansion slots and six different NIMs, including 2/4/8/Copper/SFP/SFP+ port types, offer extensive flexibility. An advanced LAN bypass feature allow to set each NIM's LAN bypass mode individually, through the BIOS or IPMI interface. Additional I/O includes two 10/100/1000 Base-T Ethernet ports, one RJ-45 serial port, two USB 3.0 ports, and one VGA port for graphics.
"OEMs and systems integrators need high performance and scalability to stay competitive. Project managers looking for a complete solution architecture will find that our modularized platform reduces the need for new product development while meeting the future needs of Internet industries," said Yong Luo, head of ADLINK's Embedded Computing Product Segment.
For the high performance requirements of network security applications, the CSA-7200 features the Intel® Xeon® E5 processor with the Intel C610 chipset and up to 30 MB of L2 cache. Twelve 1600/1860/2133 MHz DIMM sockets provide up to 384 GB of DDR4 ECC memory.
The CSA-7200 performs data packet inspection for network data transfer and integrates Wind River® Titanium Server, as well as other open source software including Intel® DPDK, Open vSwitch and nDPI, to facilitate the building of packet parsing applications. The CSA-7200 also includes support for ADLINK PacketManager, which provides the data plane software stack for dynamic Layer 3 forwarding and flow-based forwarding, accelerating application development.
For monitoring, the CSA-7200 offers an intelligent chassis management system that supports SOL for CPU nodes, PSU, and adaptive fan speeds. System management is available through a CLI or web interface and is IPMI 2.0-compliant.
As part of ADLINK's new MICA platform, the CSA-7200 offers additional options for configuration, giving OEMs and system integrators faster development and a better cost-performance ratio. With the MICA platform, computing, storage, and I/O resources are modularized for flexibility and then recombined as needed for a specific application. Network appliances based on MICA assimilate the latest Internet data center technologies, yet also integrate aspects of traditional ICT (information and communications technology), such as modular architectures, hardware-assisted acceleration, and carrier-grade design standards.
You can see the 4U model of ADLINK"s network appliance next week at Intel Developer Forum, August 16-18, at West Moscone Convention Center, San Francisco, CA, in our Intel Builders Community Booth 173.
ADLINK Technology
ADLINK Technology is enabling the Internet of Things (IoT) with innovative embedded computing solutions for edge devices, intelligent gateways and cloud services. ADLINK's products are application-ready for industrial automation, communications, medical, defense, transportation, and infotainment industries. Our product range includes motherboards, blades, chassis, modules, and systems based on industry standard form factors, as well as an extensive line of test & measurement products and smart touch computers, displays and handhelds that support the global transition to always connected systems. Many products are Extreme Rugged, supporting extended temperature ranges, shock and vibration.
ADLINK Technology is a Premier member of the Intel® Internet of Things Solutions Alliance. The company is also active in several standards organizations, including PCI Industrial Computer Manufacturers Group (PICMG), PXI Systems Alliance (PXISA), and Standardization Group for Embedded Technologies (SGeT).
ADLINK is a global company with headquarters in Taiwan and manufacturing in Taiwan and China; R&D and integration in Taiwan, China, the US, and Germany; and an extensive network of worldwide sales and support offices. ADLINK is ISO-9001, ISO-14001, ISO-13485 and TL9000 certified and is publicly traded on the TAIEX Taiwan Stock Exchange (stock code: 6166).
Intel and Xeon are registered trademarks of Intel Corporation in the United States and other countries.
Company Cotnact
Bourke MacDonald, N. American Marketing Department
Tel:+1 408 360 4353