ADLINK Introduces Industry's First High Performance Mobile-Edge Computing Platform Designed for Extreme Environments and Outdoor Telecom/Networking Applications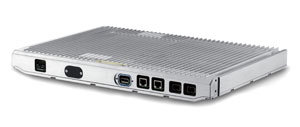 Based on Intel® architecture, the ETOS-1000 delivers the performance of a data center at the edge
SAN JOSE, CA – ADLINK Technology, a leading global provider of cloud-based services, intelligent gateways and embedded building blocks for edge devices that enable the Internet of Things (IoT), today announced the release of the ETOS-1000 extreme outdoor server. ADLINK's new ETOS-1000 is the first high-performance mobile edge computing (MEC) platform specifically designed for extreme environments and outdoor telecom/networking applications.
Based on the dual Intel® Xeon® E5-2400 v2 family of processors, the ETOS-1000 MEC platform enables Telecom Equipment Manufacturers (TEMs) and application providers to deliver data center performance at the edge of the network. The ETOS-1000 provides IT and cloud-computing capabilities within the Radio Access Network (RAN) in close proximity to mobile subscribers. This offers a service environment characterized by proximity, ultra-low latency, and high-bandwidth that allows content, services, and applications to be accelerated, maintaining a customer's high-level Quality of Experience (QoE).
The ETOS-1000 mobile-edge computing platform provides computing resources, storage capacity, connectivity and access to user traffic and real-time radio and network information. This allows operators to offer context-related services that can differentiate and monetize the user experience. In addition, since the data is processed at the edge in the RAN environment, the ETOS-1000 reduces backhaul costs and improves the infrastructure's efficiency with more intelligent and optimized networks. And with the onset of network functions virtualization (NFV) infrastructure, having data center performance at the edge of networks can enable specific virtualized network functions (VNFs) closer to the consumer, improving QoE.
"The ETOS-1000 was specifically designed for outdoor and extreme conditions while delivering data center performance at the edge," said Yong Luo, head of ADLINK's Embedded Computing Product Segment. "This enables operators to rapidly deliver new high value services while reducing costs."
Attributes such as shock and vibration resistance, -40°C to +55°C operating temperature range, and IP65 water and dust ingress rating make the ETOS-1000 an ideal solution for outdoor and extreme environments. The ETOS-1000 can also utilize ADLINK's application ready intelligent platform (ARiP) software, which includes PacketManager, remote management functions, and system management APIs for application developers. ARiPs enable customers to focus primarily on their application instead of the IoT platform building blocks required for cloud computing. The ETOS-1000 reduces maintenance costs by eliminating fans and filters and offering worry-free, weather-resistant, high-speed connections for copper or fiber options.
"As the telecommunications market moves to Virtualized Network Functions (VNFs), solutions based on Intel® architecture, such as the ETOS-1000, can bring Moore's Law economics to the telco infrastructure and help service providers meet the growing demand for network capacity growth and enhanced services in a cost effective way. By using the Intel® Xeon® E5-2400 v2 processor, ADLINK is able to offer a mobile-edge computing platform that delivers smoother, faster application delivery, improved user experience, and reductions in operator TCO," said Steve Price, General Manager of Intel's Communications Infrastructure Division.
ADLINK will be showcasing the ETOS-1000 at BTE (www.bigtelecomevent.com) in Chicago on June 9 & 10. Please stop by our booth 204 to see a live demonstration.
About ADLINK
ADLINK Technology is enabling the Internet of Things (IoT) with innovative embedded computing solutions for edge devices, intelligent gateways and cloud services. ADLINK's products are application-ready for industrial automation, communications, medical, defense, transportation, and infotainment industries. Our product range includes motherboards, blades, chassis, modules, and systems based on industry standard form factors, as well as an extensive line of test & measurement products and smart touch computers, displays and handhelds that support the global transition to always connected systems. Many products are Extreme Rugged™, supporting extended temperature ranges, shock and vibration.
ADLINK is a Premier Member of the Intel® Internet of Things Solutions Alliance and is active in several standards organizations, including PCI Industrial Computer Manufacturers Group (PICMG), PXI Systems Alliance (PXISA), and Standardization Group for Embedded Technologies (SGeT).
ADLINK is a global company with headquarters in Taiwan and manufacturing in Taiwan and China; R&D and integration in Taiwan, China, the US, and Germany; and an extensive network of worldwide sales and support offices. ADLINK is ISO-9001, ISO-14001, ISO-13485 and TL9000 certified and is publicly traded on the TAIEX Taiwan Stock Exchange (stock code: 6166).
Embedded Vision
This content is part of the Embedded Vision curated collection. To learn more about Embedded Vision,
click here
.