ADLINK Introduces High Performance Machine Vision Products Featuring New Value Series Smart Camera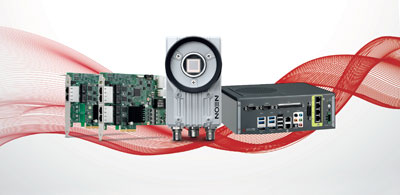 ADLINK Technology, a leading global provider of trusted machine vision products, today announced the release of its new NEON-1021 Intel® Atom™ E3845 processor-based smart camera, EOS-1300 4CH PoE Compact Vision System, and PCIe-GIE72/74 2/4CH GigE Vision PoE+ frame grabbers, delivering precise image acquisition with high integration, effectively reducing TCO.
NEON-1021 Intel® Atom™ E3845 processor-based value series smart camera
The NEON-1021, the first in ADLINK's new value line of smart cameras, features high performance quad core Intel® Atom™ processors, speedy Multi-ROI image capture, and FPGA-accelerated image pre-processing. Middleware support for the NEON-1021 is complete and verified, accommodating 90% of popularly utilized machine vision software and providing high-speed multi-ROI capture, presenting significant competitive advantage over conventional smart camera and compact vision systems. Maximizing integration and reducing TCO, the NEON-1021 simplifies development, minimizes time to market, and delivers seamless migration from x86 architecture.
Highlights:
Maximum integration reduces TCO
1/1.8" sensor wide range lens capability
GigE Vision 1 slave camera support
Built-in PWM lighting control
Easy development speeds time to market
Streamlined integration and maximization of all leading machine vision utilities, including MVTec Merlic, HALCON, Stemmer CVB, Congex Vision Pro, Euresys Open eVision, Matrox MIL, Teledyne Dalsa Sherlock and GenTL
Powerful performance guarantees results
High-speed Multi-ROI image capture
FPGA-based image pre-processing
EMVA 1288-verified superior image quality

EOS-1300 4-CH Compact GigE Vision System with On-the-Fly DI/O
The EOS-1300 compact GigE vision system is equipped with 6th Generation Intel® Core™ i7/i5/i3 processors and four independent PoE (power over Ethernet) ports. FPGA-based function allows the EOS-1300 to provide programmable de-bounce filtering, on-the-fly triggering, and advanced encoder functions for real-time precision control with no CPU loading or requirement for additional devices. Advanced I/O deployment, wide operating temperature support and onboard license protection all enable the EOS-1300 to increase reliability while reducing TCO and TTM, making it the ideal solution for Food & Beverage, Pharmaceutical, & Medical Device applications requiring high computing power and time-deterministic operation in a durable package with minimal footprint.

PCIe-GIE7x Series Reliable PCI Express® GigE Vision PoE+ Frame Grabbers
With comprehensive PoE power protection exclusive to ADLINK, multi-card capture, and smart PoE management, combined with ADLINK's extensive experience in GigE Vision-based solutions, the PCIe-GIE72/74 provides complete support for a wide range of machine vision applications. Key assets such as cameras and sensors are protected from damage by the PCIe-GIE72/74's PoE power protection. As well, a user friendly PoE management utility and APIs monitor and control PoE ports in real time and enable prediction of possible failure events. Moreover, integrated software license management and advanced FPGA-based Trigger Over Ethernet synchronize multi-camera acquisition, significantly reducing ownership costs.
With its extensive product offerings, ADLINK's comprehensive machine vision solutions fully empower any automated manufacturing operation.
Embedded Vision
This content is part of the Embedded Vision curated collection. To learn more about Embedded Vision,
click here
.