ADLINK Introduces AmITX-SL-G Embedded Board with 6th Generation Intel® Core™ Processor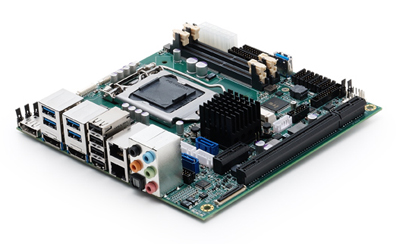 Latest Mini-ITX board offers enhanced processing and graphics display in an ultra-compact, scalable system
San Jose, CA – ADLINK Technology, Inc., a leading global provider of cloud- based services, intelligent gateways, and embedded building blocks for edge devices that enable the Internet of Things (IoT), introduces the AmITX-SL-G, a compact embedded computing platform equipped with high-performance, low-power 6th generation Intel® Core™ i7/i5/i3 processors. The AmITX-SL-G design follows the Form, Fit, Function principle for scalable development, reducing time-to-market for embedded applications.
The latest Mini-ITX combines the new 6th generation Intel® Core™ i7/i5/i3 processors and Intel® Q170/H110 chipsets with one of the industry's most versatile form factors. The result is a space-saving, entry-level embedded board with higher processing speeds, faster graphics rendering, and up to 32 GB of memory for infotainment, industrial, and medical applications.
"We're confident that by keeping pace with Intel's processor roadmap in our Mini-ITX platform, we put best-in-market technology in the hands of our customers, packaged with a design that suits their needs," said Henk Van Bremen, senior director of the ADLINK Module Computing Product Segment.
In the AmITX-SL-G, the 6th generation Intel® Core™ i7/i5/i3 processor supports up to 32 GB of dual channel non-ECC DDR4 memory at 1867 MHz, doubling the memory capacity while reducing the footprint of previous models. With the Intel® Q170 and H110 chipsets and HD Iris™ Pro graphics, the processor offers faster 3D imaging and video conferencing, ultra HD/4K resolution across three display ports for medical-grade images, and low-power transcoding for HEVC/H.265, VP8, VP9, and VDENC formats.
The Mini-ITX form factor is the smallest in the ITX inventory. At only 170 mm square and approximately 35 mm thick, its small size is ideal for a self-service kiosk, on-display mount, stand-alone gaming system, or any limited-space application. ADLINK embedded boards also follow the form, fit, function design principle: board designs feature a layout consistent for connector and pinout locations, allowing easy upgrades with no need to modify the enclosure or cabling. The Mini-ITX remains compatible with Micro-ATX and regular ATX chassis to offer scalability for later development.
With extensive I/O options, The AmITX-SL-G embedded board serves as an ideal base for a scalable system. External connectors include dual GbE ports, four USB 3.0 and four USB 2.0 ports, HD audio I/O, and three display ports. Internal connectors include three SATA 6 Gbps ports, display-optional LVDS/eDP, and a feature header with 10 GPIO, SMBus, and I2C support. PCIe expansion is available through a Gen3 PCIe x16 slot, one single-lane PCIe, and two mini-PCIe slots with support for mSATA.
The AmITX-SL-G embedded board is equipped with ADLINK's Smart Embedded Management Agent (SEMA) to provide detailed system data at the device level, including temperature, voltage, power consumption, and other key information. Access to system activities allows operators to identify inefficiencies and malfunctions in real-time, thus preventing failures and minimizing downtime. ADLINK's SEMA-equipped devices connect seamlessly to the SEMA Cloud to enable remote monitoring. All collected data, including sensor measurements and management commands, is accessible from any place, at any time through an encrypted connection. In addition, the board offers the enhanced security capabilities of the Intel® Q170 and H110 chipsets, including new AES instructions, faster encryption, and the Intel® Software Guard Extension and Memory Protection.
ADLINK Technology
ADLINK Technology is enabling the Internet of Things (IoT) with innovative embedded computing solutions for edge devices, intelligent gateways and cloud services. ADLINK's products are application-ready for industrial automation, communications, medical, defense, transportation, and infotainment industries. Our product range includes motherboards, blades, chassis, modules, and systems based on industry standard form factors, as well as an extensive line of test & measurement products and smart touch computers, displays and handhelds that support the global transition to always connected systems. Many products are Extreme Rugged™, supporting extended temperature ranges, shock and vibration.
ADLINK Technology is a premier member of the Intel® Internet of Things Solutions Alliance. From modular components to market-ready systems, Intel and the 350+ global member companies of the Alliance provide scalable, interoperable solutions that accelerate deployment of intelligent devices and end-to-end analytics. Close collaboration with Intel and each other enables Alliance members to innovate with the latest technologies, helping developers deliver first-in-market solutions. The company is also active in several standards organizations, including PCI Industrial Computer Manufacturers Group (PICMG), PXI Systems Alliance (PXISA), and Standardization Group for Embedded Technologies (SGeT).
ADLINK is a global company with headquarters in Taiwan and manufacturing in Taiwan and China; R&D and integration in Taiwan, China, the US, and Germany; and an extensive network of worldwide sales and support offices. ADLINK is ISO-9001, ISO-14001, ISO-13485 and TL9000 certified and is publicly traded on the TAIEX Taiwan Stock Exchange (stock code: 6166).
Company Contact
Monica Lanctot
Tel: +1 408 360 4337
Embedded Vision
This content is part of the Embedded Vision curated collection. To learn more about Embedded Vision,
click here
.