ADLINK First to Market With Dedicated Media Cloud Server Plus Built-in MediaManager Software for High Performance Transcoding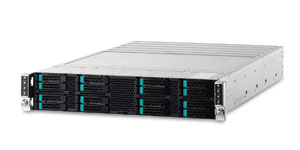 MCS-2040 targets video analytics, video conferencing and transcoding for CDNs with new application-ready intelligent platform.
SAN FRANCISCO, CA – RSA Conference – ADLINK Technology, a leading global provider of cloud-based services, intelligent gateways, and embedded building blocks for edge devices that enable the Internet of Things (IoT), today introduced the MCS-2040, the first dedicated media server on the market with built-in media processing management software, offering 6x the performance of pure software transcoding solutions and reserving more than 80% of CPU capacity for customer applications. Based on dual 4th generation Intel® Core™ i7/i5/i3 processors or Intel® Xeon™ processor E3-1200 V3, the MCS-2040 Media Cloud Server targets video applications such as surveillance with video analytics, video conferencing used in remote education & healthcare environments, and IPTV content delivery networks (CDNs) as a transcoding server. For a live demonstration of the MCS-2040, stop by ADLINK's Booth #S128 during this week's RSA Conference from April 20 – 24 at Moscone Center in San Francisco.
The media server market currently offers two distinct options: a general-purpose hardware solution that relies on software for functionality, and a dedicated media server with no added software included. The MCS-2040 offers the high performance and efficiency of a dedicated media server without dominating CPU load availability. Its built-in MediaManager software offers enriched features above those of the Intel® Media Software Development Kit (Media SDK) supported by, but not included with, other dedicated media server options. As an application-specific integrated circuit (ASIC) solution, the MCS-2040 helps further speed time-to-market for customers by mitigating technical risks and reducing development time through provided MediaManager software capabilities.
The MCS-2040 offers four compute nodes is a 2U 19" form factor. Each node offers two independent systems communicating via Gigabit Ethernet (GigE); dual 4th generation Intel® Core™ i7/i5/i3 processors or Intel® Xeon™ processor E3-1200 V3; 4 DIMMS with up to 32GB DDR3 memory (16GB/system); quad GbE RJ45 (two/system); 4 hot-swappable 2.5" SATA drive bays; a PCI Express (PCIe) slot reserved for I/O expansion to integrate 3rd party SDI, FC, and Ethernet cards; 2x 1600W redundant power supplies; and MediaManager software to round out the application-ready intelligent platform (ARiP).
"The current landscape includes high-cost, low-performance generic servers that rely purely on software to make them competitive as a media cloud server, or dedicated servers with no built-in software to enable faster development time for video applications," explained Yong Luo, head of ADLINK's Embedded Computing Product Segment. "The MCS-2040 offers increased performance that mitigates the overall product cost by ~50% and enables upgrade to a new generation of CPU/GPU without changing a single line of source code."
ADLINK's MediaManager expands on the functionality of Intel® Media SDK by providing additional modules to handle common media processing tasks not natively supported by the Intel Media SDK API, including mux/demux of media container files, RTP receiving and streaming, video composition, and audio processing.
About ADLINK
ADLINK Technology is enabling the Internet of Things (IoT) with innovative embedded computing solutions for edge devices, intelligent gateways and cloud services. ADLINK's products are application-ready for industrial automation, communications, medical, defense, transportation, and infotainment industries. Our product range includes motherboards, blades, chassis, modules, and systems based on industry standard form factors, as well as an extensive line of test & measurement products and smart touch computers, displays and handhelds that support the global transition to always connected systems. Many products are Extreme Rugged™, supporting extended temperature ranges, shock and vibration.
ADLINK is a Premier Member of the Intel® Internet of Things Solutions Alliance and is active in several standards organizations, including PCI Industrial Computer Manufacturers Group (PICMG), PXI Systems Alliance (PXISA), and Standardization Group for Embedded Technologies (SGeT). ADLINK is a global company with headquarters in Taiwan and manufacturing in Taiwan and China; R&D and integration in Taiwan, China, the US, and Germany; and an extensive network of worldwide sales and support offices. ADLINK is ISO-9001, ISO-14001, ISO-13485 and TL9000 certified and is publicly traded on the TAIEX Taiwan Stock Exchange (stock code: 6166).