ADLINK Employs Latest Intel® Atom™ and Intel® Celeron® SoC
rong>New products featuring Intel's 22nm Silvermont Architecture offer significant improvements in power consumption, performance, and graphics capabilities over previous generations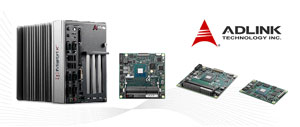 ADLINK Technology, Inc., a leading provider of embedded computing products and application-ready intelligent platforms, today announced an array of new products in various form factors based on the latest Intel® Atom™ and Celeron® processors for intelligent systems, featuring a significant performance per watt improvement over previous generations, high integration of both low speed and high speed I/Os, an advanced graphics engine, and virtualization support — all on a sub-10-watt system-on-chip (SoC) that enables small, light, and reliable embedded designs.

ADLINK's new offerings include low power and ultra low power computer-on-modules (COMs) supporting COM Express®, Smart Mobility Architecture (SMARC), and Qseven form factors; two fanless solutions in a 3U CompactPCI® (CPCI) blade and a rugged I/O platform; an industrial smart touch computer; a PC/104-Plus single board computer (SBC); and a mini-ITX industrial motherboard. The new products run on a single, dual- or quad-core Intel® AtomTM E3800 series or Intel® Celeron® N2920/J1900 processor, with clock rates ranging from 1.33GHz to 2.2GHz and power envelops from 5 to 10 watts.

"Utilizing Intel's core computing strengths, their recent innovations in graphics capabilities, and the power efficiency that comes with the SoC design of the latest Intel® Atom™ and Celeron® processors, ADLINK has developed embedded solutions that contribute to end applications that can better address the spreading demand for intelligent automation across markets," said Dirk Finstel, executive vice president of ADLINK's global Module Computer Product Segment.

"Our latest Intel® Atom™ and Celeron® platforms provide a compelling power/performance ratio," said Sam Cravatta, product line manager, Intel Intelligent Systems Group. "In addition to excellent computing and graphic capabilities, our leading-edge 22nm Silvermont microarchitecture incorporates error correcting code (ECC) and a built-in security engine in a low power profile that is ideal for many intelligent systems, such as automated factory equipment that typically runs 24/7."

ADLINK's COM Express computer-on-module (COM) offerings include the cExpress-BT2, cExpress-BT, and nanoX-BT—PICMG COM.0 Rev.2.1 Type 2, Type 6 and Type 10 form factors, respectively—with I/O features typical of x86 architecture: up to 3 PCIe, 2 SATA, and 8 USB ports are provided for scalability in application system layouts. To ensure reliability and stability, all of the modules are verified with international standards for shock and vibration and have an extreme rugged operating temperature range of -40 to +85oC.

ADLINK is also offering embedded modules following the Qseven and SMARC standards. These smaller profile modules can be used to develop ultra low power applications for small, thin form factor mobile or stationary devices, such as instrumentation, emergency medical devices, industrial tablets, and Human Machine Interfaces (HMI). The ADLINK Q7-BT is a 70x70mm off-the-shelf COM for OEM embedded systems customers who are looking to outsource custom core logic and embedded software efforts in order to get to market quickly. It is ideal for power-efficient mobile applications typically covered by high-end ARM-based designs. ADLINK's ultra low power SMARC-based LEC-BT comes in two sizes: 82x50mm or 82x80mm. The ADLINK LEC-BT provides both legacy PC interfaces such as PCIe, SATA, and HDMI and modern ARM interfaces such as SPI and I2C; this hybrid mix is expected to usher in more creative and diversified embedded applications across verticals.

ADLINK also offers the cPCI-3620 3U CPCI processor blade with quad-core 1.9GHz performance in a fanless design. The new blade incorporates an industrial grade Intel Atom processor with -40 to +110 °C Tjunction, which provides added reliability at extreme temperatures. Aimed for railway applications, the cPCI-3620 has reinforced anti-vibration and anti-electromagnetic, wide temperature range support, and has been designed for EN50155, the European standard for electronic equipment used on rolling stock.

Our new Matrix MXC-2300 series of rugged and fanless I/O platforms, based on the Intel Atom processor E3800 product family, features a superior price/performance ratio with excellent computing and graphics performance, versatile I/O function, low power consumption, and configurable PCI/PCIe slots. The Matrix MXC-2300 is a good fit for a wide range of applications, including factory, machine, and maritime automation environments.

ADLINK's latest Smart Touch Computer 'STC' series is designed to support mission-critical applications operating in harsh environments. With an initial design featuring a 10" high-brightness LCD and projected capacitive touch screen, the STC series will offer multiple display sizes, resistive touch screen, easily customizable I/O configuration, and superior connectivity options, including dual Ethernet, Wi-Fi, 3G/LTE, and near field communication (NFC). This flexibility makes the STC an ideal fit for transportation, factory automation, and healthcare.

Our versatile CM2-BT2 is a PC/104-Plus SBC; a PC/104 (CM1-BT1) variant for ISA bus-only support and PCI-104 (CM3-BT1 or CM3-BT4-8G) variants for PCI bus-only support are also offered to service diverse design and budget requirements. The CMx-BTx SBCs support up to 4GB -1066/1333 MHz DDR3L SODIMM memory and feature interfaces for DisplayPort and LVDS, GbE (optional 2x GbE), 1x SATA 6Gb/s (optional 2x SATA 6Gb/s), 1x USB 3.0 + 2x USB 2.0, and 8x GPIO.

Finally, the flexible ADLINK IMB-T11 mini-ITX industrial motherboard offers VGA, HDMI, and LVDS display output; PCI for flying cable/riser cards; a mini-PCIe/mSATA card slot; and 10x COM ports. For more information on the IMB-T11 and our many other offerings based on Intel Atom and Celeron processors for intelligent systems, please visit www.adlinktech.com.

About ADLINK Technology
ADLINK Technology provides a wide range of embedded computing products and services to the test & measurement, automation & process control, gaming, communications, medical, network security, and transportation industries. ADLINK products include PCI Express-based data acquisition and I/O; vision and motion control; and AdvancedTCA, CompactPCI, and computer-on-modules (COMs) for industrial computing. With the acquisition of Ampro Computers, Inc. and LiPPERT Embedded Computers GmbH, ADLINK also provides a wide range of rugged by design Extreme Rugged™ and Rugged product lines including single board computers, COMs and systems.

ADLINK strives to minimize the total cost of ownership (TCO) of its customers by providing customization and system integration services, maintaining low manufacturing costs, and extending the lifecycle of its products. ADLINK is a worldwide company with headquarters and manufacturing in Taiwan; R&D and integration in Taiwan, China, the US, and Germany; and an extensive network of worldwide sales and support offices.

ADLINK is ISO-9001, ISO-14001, ISO-13485 and TL9000 certified, is an Associate Member of the Intel® Intelligent Systems Alliance, an Executive Member of PICMG, a Sponsor Member of the PXI Systems Alliance, an Executive Member of PC/104 Consortium, a Strategic Member of the AXIe Consortium, and a member of VMEbus International Trade Association (VITA). ADLINK is a publicly traded company listed on the TAIEX Taiwan Stock Exchange (stock code: 6166).

Embedded Vision
This content is part of the Embedded Vision curated collection. To learn more about Embedded Vision,
click here
.