ADLINK Debuts Ultra-Compact Fanless Quad-Core Embedded Computer based on Intel® Atom™ SoC Processor E3845/E3826
rong>The MXE-200/200i series withstands industrial grade EMI/EMS, is operable in harsh environments, and reduces TCO with combined controller and IoT gateway

CHICAGO, IL – AUTOMATE – ADLINK Technology, Inc., a leading global provider of intelligent computing platforms, today announced the release of its cutting-edge MXE-200/200i Series, the ultra-compact fanless embedded platform based on Intel® Atom™ SoC E3845/E3826 processors, delivering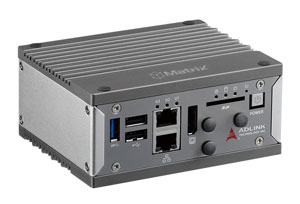 impressive computing performance. The MXE-200/200i Series' hardy aluminum housing withstands industrial grade EMI/EMS (EN 61000-6-4, 61000-6-2) and is fully operable under harsh conditions. Meeting a wide variety of specific industrial needs, the exceptionally rugged MXE-200/200i series combines controller and gateway functions in one unit, significantly reducing space/wiring and device costs.

Stop by ADLINK's booth #1152 during this week's AUTOMATE show to see firsthand how the MXE-200 delivers maximum performance with quad-core Intel® Atom™ Processors, and the MXE-200i adds pre-verified Internet of Things (IoT) functionality to embedded control capability, with full Intel® IoT Gateway support.

Robust and reliable
ADLINK's MXE-200/200i provides superior construction to withstand industrial grade EMI/EMS (EN 61000-6-4/EN 61000-6-2), making it a reliable embedded platform for use in harsh environments. The MXE-200/200i also optimizes MTBF with an extended operating temperature range of -20°C to 70°C, outstanding vibration/shock sustainability of 5 Grms and up to 100 G, and long-term availability.

Ideal Industrial IoT-ready platform
Full support for the Intel® IoT Gateway, integrated Wind River® Intelligent Device Platform XT, McAfee Embedded Control, and ADLINK's proprietary Smart Embedded Management Agent (SEMA) Cloud solution all maximize manageability and security for the MXE-200i, protecting customer assets and increasing business value for a world of applications. The MXE-200i's proven versatile connectivity for wired and wireless communication delivers the benefits of the most reliable ready-to-use M2M solutions.

Versatile connectivity
ADLINK's MXE-200/200i features two GbE LAN, two COM, two USB 2.0 and one USB 3.0 host ports, four optional isolated DI and four isolated DO w/ interrupt support, dual mini PCIe slots with one mSATA support and USIM socket support communication with connections such as WiFi, BT, 3G and LTE, to ensure interoperability between systems and maximum industrial connectivity to meet specific industrial needs.

"ADLINK understands that customers require readily available solutions. In addition to providing a powerful embedded platform in an ultra-compact enclosure, ADLINK's exclusive remote management software, SEMA/SEMA Cloud, seamlessly integrates massive collections of linked elements, empowering distal analysis and intelligence operations. "

The MXE-200/200i series presents an intelligent, robust embedded system supporting versatile application development and easy service deployment, making it ideal for industrial automation, intelligent transportation, in-vehicle infotainment (IVI) systems, M2M (machine-to-machine), and IoT applications.

The ADLINK MXE-200 Series models, MXE-201 and MXE-202, are equipped with quad-core Intel® Atom™ processor E3845 and dual-core Intel® Atom™ processor E3826, respectively, and the MXE-202i with dual-core Intel® Atom™ processor E3826 with Wind River® IDP XT 2.0 preloaded.

About ADLINK
ADLINK Technology is enabling the Internet of Things (IoT) with innovative embedded computing solutions for edge devices, intelligent gateways and cloud services. ADLINK's products are application-ready for industrial automation, communications, medical, defense, transportation, and infotainment industries. Our product range includes motherboards, blades, chassis, modules, and systems based on industry standard form factors, as well as an extensive line of test & measurement products and smart touch computers, displays and handhelds that support the global transition to always connected systems. Many products are Extreme Rugged™, supporting extended temperature ranges, shock and vibration.

ADLINK is a Premier Member of the Intel® Internet of Things Solutions Alliance and is active in several standards organizations, including PCI Industrial Computer Manufacturers Group (PICMG), PXI Systems Alliance (PXISA), and Standardization Group for Embedded Technologies (SGeT).
ADLINK is a global company with headquarters in Taiwan and manufacturing in Taiwan and China; R&D and integration in Taiwan, China, the US, and Germany; and an extensive network of worldwide sales and support offices. ADLINK is ISO-9001, ISO-14001, ISO-13485 and TL9000 certified and is publicly traded on the TAIEX Taiwan Stock Exchange (stock code: 6166).


Embedded Vision
This content is part of the Embedded Vision curated collection. To learn more about Embedded Vision,
click here
.