ADLINK Announces Alliance Strategy for Integrated Networking and Communications
ADLINK to deliver Intel-based edge computing platforms for next generation smart access applications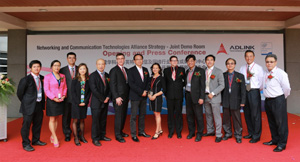 ADLINK Technology, a leading global provider of cloud-based services, intelligent gateways, and embedded building blocks for edge devices that enable the Internet of Things (IoT), today announced the opening of a demo room—developed in collaboration with Intel at ADLINK's Shanghai Operations Center—as the kick-off event for a newly signed collaborative technology strategy. Combining Intel's latest development technologies with ADLINK's established design capabilities, this new era of cooperation promises to deliver advanced, cutting-edge switching, transcoding and deep packet inspection solutions for the next iteration of the intelligent edge, cloud-computing platform. The demo room will exhibit smart access applications on edge computing servers, AdvancedTCA® (ATCA) servers, and network appliances. Edge Computing & Smart Access provides clear, direct demonstrations of the latest advances in edge computing /SDN technology.
With nearly two decades of manufacturing and design experience in industrial telecom, Ethernet switching and computing manufacturing, ADLINK is now proud to announce its new cooperative framework with Intel. The demonstration and testing lab will be dedicated to combining ADLINK's extensive application design experience with Intel's latest generation of networking and communications technology, with an initial focus on the application of innovative edge computing technologies to specific industrial solutions. With ADLINK's established reputation of reliable, rugged ATCA and CompactPCI® servers for industrial telecommunications and mobile Ethernet, ADLINK aims to push forward the future of mobile telecommunications by working with Intel to develop the next generation of industrial-grade networking and telecom appliances for intelligent edge computing and smart access applications.
ADLINK is also demonstrating two new platform products in our edge computing & edge computing system infrastructure. The CSA-5100/5200, a combined SDN switch and next-generation firewall, provides Deep Packet Inspection (DPI) and Network Functions Virtualization (NFV) capabilities. Intended as part of a full systems solution, the CSA-5100/5200 may be paired with our new rugged edge computing & smart access server, the HXC-1000. The HXC-1000 is squarely aimed at providing an innovative server functionality to a wide variety of industrial suppliers for applications in outdoor and harsh environments, including edge networking equipment for mobile access, mobile content delivery networks, cable modem termination systems and military/agriculture applications.
"Moving processing and data storage away from a centralized location to the edge of the network can improve performance of online commerce sites," said Jim Liu, CEO of ADLINK Technology, "Through a collaboration with Intel, ADLINK will enable the application ready intelligent platform to enhance user experience through the last mile.
"Intel is working with ADLINK to advance the industry in transforming the network as we know it today," said Rick Dwyer, Vice President of Intel's Sales and Marketing Group and General Manager of Worldwide Embedded Sales. "The demonstration lab provides an excellent environment for local companies to build on Intel and ADLINK technologies to deliver SDN/NFV solutions."
With this new strategic understanding, ADLINK moves beyond providing simple hardware building blocks for today's emerging edge computing architectures, to instead developing fully-formed, application-ready intelligent platforms that integrate rugged, reliable hardware platforms with fast, intelligent, and highly efficient software applications for tomorrow's edge computing and smart access telecommunications solutions.
For more information on ADLINK's telecommunications and networking solutions, please visit http://www.adlinktech.com/Telecommunication/
About ADLINK
ADLINK Technology is enabling the Internet of Things (IoT) with innovative embedded computing solutions for edge devices, intelligent gateways and cloud services. ADLINK's products are application-ready for industrial automation, communications, medical, defense, transportation, and infotainment industries. Our product range includes motherboards, blades, chassis, modules, and systems based on industry standard form factors, as well as an extensive line of test & measurement products and smart touch computers, displays and handhelds that support the global transition to always connected systems. Many products are Extreme Rugged™, supporting extended temperature ranges, shock and vibration.

ADLINK is a Premier Member of the Intel® Internet of Things Solutions Alliance and is active in several standards organizations, including PCI Industrial Computer Manufacturers Group (PICMG), PXI Systems Alliance (PXISA), and Standardization Group for Embedded Technologies (SGeT).

ADLINK is a global company with headquarters in Taiwan and manufacturing in Taiwan and China; R&D and integration in Taiwan, China, the US, and Germany; and an extensive network of worldwide sales and support offices. ADLINK is ISO-9001, ISO-14001, ISO-13485 and TL9000 certified and is publicly traded on the TAIEX Taiwan Stock Exchange (stock code: 6166).

Embedded Vision
This content is part of the Embedded Vision curated collection. To learn more about Embedded Vision,
click here
.