Additions to the X20 I/O family
B&R presents their new temperature and power measurement modules
B&R is extending the X20 I/O system to include two additional modules: A temperature measurement mod-ule with 4-wire resistance measurement and an energy measurement module with four current inputs for connecting external transformers with a 333 mV output.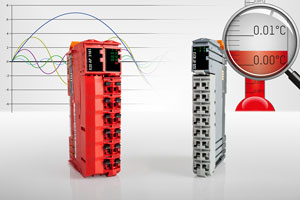 Up to four platinum PT100 temperature sensors that are complaint with IEC 60751 can be connected to the X20ATB312 temperature measurement module using 4-wire connection technology. Wiring the compact 4-channel X20 module, which has a width of only 12.5 mm, is done using a X20TB1F 16-pin terminal block. In addition to resistance temperature measurement using PT100 sensors that have a constant current supply for the 4-wire connections and a resolution of 0.01°C, the module also allows direct resistance measurement and offers the possibility to individually set the filter time.

Measuring energy consumption
TheX20AP3161 extends B&R's range of energy measurement modules. It is equipped with three voltage inputs for a maximum of 3x 480 VAC and four current inputs for connecting external current transformers with s 333 mV output. The module measures effective, reactive and apparent power individually for each of the three phases and for all of them collectively. The power consumption of each phase and the total sum is also recorded.

The module measures current and voltage up to the 31st harmonic, so it is highly precise. Due to its high sensitivity and having a fourth channel, it is perfectly suited for measuring leakage current on neutral lines. The signals are pre-processed before being passed on in the form of digital variables, which reduces the load on the controller.

Extremely precise temperature or electrical energy measurements are not a problem with the newest members to B&R's X20 product family.

B&R company profile
As a global leader in industrial automation, B&R combines state-of-the-art technology with advanced engineering to provide customers in virtually every industry with complete solutions for machine and process automation, motion control, HMI and integrated safety technology. With industrial fieldbus communication standards like POWERLINK and openSAFETY as well as the powerful Automation Studio software development environment, B&R is constantly redefining the future of automation engineering.

B&R Industrial Automation, Inc. North America, based in Atlanta, GA, has been working closely with its customers since 1987. Since then, B&R North America has continuously grown as a sales and support organization through both direct sales offices and B&R's unique Automation Partner distribution network. Today, B&R North America has a network of more than 25 offices throughout the USA and Canada and is there for its customers locally.