Adaptive Vision Studio 4.1 released

Adaptive Vision Studio 4.0 was officially released in September. Today we announce version 4.1, which contains a number of secondary improvements, but also some major new features, which were not ready for version 4.0.
Adaptive Vision Library for Linux
Many OEM customers have requested that they wanted to deliver their applications based on the Linux operating system instead of Windows. For this reason we have introduced a Linux version of our C++ library, compiled with GCC 4.6 as an .SO binary. From now on the users can work in the graphical environment of Adaptive Vision Studio 4.1 under Windows and then generate C++ code which can be compiled under Linux. It is also possible to use Adaptive Vision Library directly as a Linux library by writing the code manually.


Lite+: Powerful freeware edition for non-commercial use
Up to version 4.0 we were offering two free-of-charge editions of our product: "Student" intended for use in academic courses and "Lite" available to everyone, but limited to single-macrofilter programs. Now, we are replacing them with a single "Lite+" edition, which offers almost all features of the "Professional" edition with the exception of the most advanced ones and all the things related to communication with external devices. It is available free-of-charge for any non-commercial use. We recommend it to all machine vision enthusiasts including students and those who want to learn the capabilities of our products before making decision to buy a commercial license.
The new Lite edition does not require registration.


Undo/Redo Engine
All user actions related to Program Editor and Project Explorer can now be reverted with an efficient undo/redo engine (Ctrl-Z, Ctrl-Y). This required rewriting some substantial parts of the application, but we are sure this was worth it. Besides the increased convenience in experimenting with algorithms, this new functionality made it possible to remove many "Are you sure…" message-boxes.


New Types of Data for Intuitive Configuration of Filters
Shape Fitting, Measurement and Presence Checking filters received new input data types together with appropriate graphical editors. This allows for more convenient definition of fitting fields, scan areas and geometrical regions of interest.

New graphical editor for CircleFittingField used in Shape Fitting filters.

Two-stage GUI for Template Matching
A common problem with Template Matching applications is that for the highest performance the user should create the model from a limited characteristic part of a template object, but at the same time we want to see the entire object on the output of the matching filter. For this reason we have redesigned the GUI for Template Matching to accommodate a two-stage model definition schema. In the first step the user selects a part of a template image which will be used for matching. In the second step a reference rectangle marking the entire objects is defined.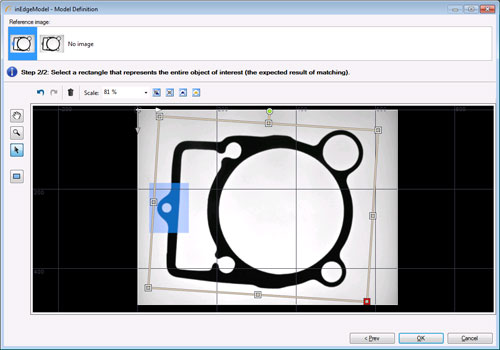 A new two-stage GUI for Template Matching. The blue region depicts the characteristic part of an object. The big rectangle defines the entire object.
Adaptive Vision Studio can be downloaded for evaluation and non-commercial use from company's website for free.