Active Silicon presents the new FireBird USB 3.0 Host Controller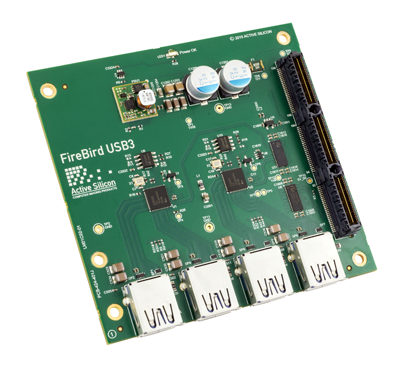 Active Silicon, a leading manufacturer of imaging products, embedded systems and custom solutions, presents its new addition to the FireBird product range. Our new FireBird Quad USB 3.0 Host Controller supports the rugged PCIe/104 format and allows easy integration of USB 3.0 devices into embedded systems as well as cameras using the USB3 Vision standard.

The FireBird Quad USB 3.0 Host Controller supports four USB 3.0 ports arranged as two ports per host controller with each controller having its own PCI Express x1 Gen2 interface to give a combined total data throughput of 10 Gbps. The USB 3.0 Host Controllers used are the proven Renesas μPD720202.

The architecture of this card provides the flexibility to operate two USB 3.0 devices simultaneously at full bandwidth, or to operate four devices simultaneously sharing the combined bandwidth of 10 Gbps.

Software support is based on the proven Renesas driver stack which provides compatibility with USB3 Vision cameras and the GenICam standard – and these international vision standards in turn provide compatibility with a wealth of third-party applications allowing rapid product development and integration.