ACS Motion Control - Ultra-Compact Dual/Quad Axis Universal Drive Module for Cost Sensitive Applications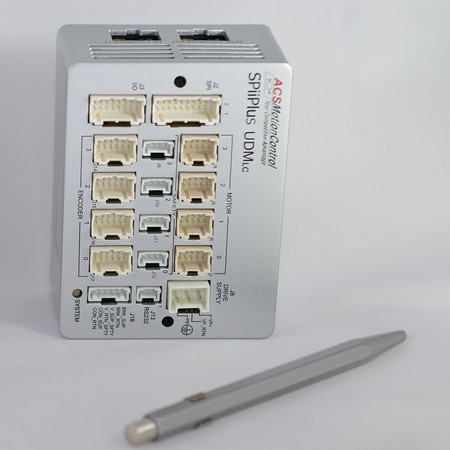 MIGDAL HA'EMEK, Israel — ACS Motion Control, an international manufacturer of advanced multi-axis motion and machine control solutions, has developed a unique addition to the SPiiPlus EtherCAT® Control Solution family. The UDMlc is a compact EtherCAT dual/quad axis drive, designed to meet the needs of OEMs designing control systems for motion demanding equipment which utilize small motors, such as pick/place machines, tabletop motion platforms, and wide format inspection/assembly equipment.

The UDMlc's dual/quad-axis universal drives can run servo, stepper, and voice coil motors with a power range of 10W to 200W. The type of motor is selected by the user and can be set differently for each drive axis. The miniature size, low weight, and minimal cable interface makes the UDMlc ideal for mounting remotely on moving axes. It is available in three current levels (cont./peak per axis): 1.25/2.5A, 2.5/5A or 5/10A (dual axis version only), supports motor bus voltages from 15-48Vdc, and has inputs for four digital incremental and up to two absolute encoders.

In addition to being compact and cost effective, the UDMlc offers the best performance among motor drives in the market. A high linearity power stage, full sinusoidal commutation with field oriented control, and advanced position, velocity, and current loop servo algorithms running at an uncompromised 20kHz sampling and update rate enables nanometer level positioning and ultra-smooth constant velocity control. "The addition of the UDMlc to ACS' SPiiPlus EtherCAT Control Solution family of products allows control system architects of sophisticated equipment to include control of small motors into a primary machine control system in an elegant and cost effective way," said Jason Goerges, General Manager at ACS Motion Control, Inc. "Also, the UDMlc can be used with ACS' PC based soft controller or standalone controller to provide full control solutions for cost sensitive high performance applications such as tabletop biomedical scanning stages."

The UDMlc EtherCAT slave drive module can be used with any of the ACS SPiiPlus EtherCAT controllers, and is fully supported by the SPiiPlusNT Suite application development studio for drive configuration, axis tuning, and multi-axis application programming. The SPiiPlusNT Suite also includes a full PC-based controller simulator that greatly reduces the cost of ownership and time-to-market for OEMs, system integrators and end users

About ACS Motion Control
An international manufacturer of advanced multi-axis motion controllers, machine controllers and integrated control modules, ACS provides standard and custom products that combine power and precision to deliver flexible, economical, user-friendly motion and machine control solutions. Established in 1985, ACS' international headquarters is located in Israel and its North American headquarters resides in Eden Prairie, MN. ACS also has facilities in South Korea and China, and distributors worldwide that deliver dependable customer service and product support. ACS is an ISO9001 certified manufacturing facility, demonstrating its continuous commitment to providing customers with reliable devices that are thoroughly tested with the latest available techniques.