ACS Motion Control Introduces SPiiPlusEC Motion and EtherCAT Network Controller
ACS Launches Its Most Powerfuol Motion and EtherCAT® Network Controller
The high performance and cost-effective SPiiPlusEC motion and EtherCAT network controller is specifically designed to address the needs of modern machinery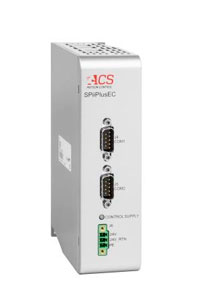 ACS Motion Control has developed a new line of motion controllers and EtherCAT® masters that are comprised of a more powerful processor and two EtherCAT ports supporting ring topology. The high performance, yet economical SPiiPlusEC easily expands the capabilities of new and previously installed SPiiPlus controllers and EtherCAT masters.
The SPiiPlusEC motion controller and EtherCAT network manager delivers multi-axis and scalable distributed control for motion centric applications that require higher profile generation, faster EtherCAT cycle rates, and network redundancy to enhance reliability and machine uptime.
The SPiiPlusEC controls up to 64 fully synchronized axes and up to 5KHz rate of profile generation and EtherCAT cycle. The network can be comprised of any of ACS' line of EtherCAT servo and step motor drives and I/Os modules, as well as any certified
EtherCAT module made by other vendors that complies with CAN over EtherCAT (CoE) protocol.
The unique NetworkBoost™ optional feature increases machines' uptime using ring topology-based redundancy to continue operation when a network cable failure is detected.
The SPiiPlusNT comprehensive suite of software tools designed to minimize time to market and to address the specific machine requirements throughout its whole life cycle, complements the SPiiPlusEC controller. It provides extraordinarily easy automatic
system and network setup, axis setup, fast host and embedded application development, a built-in full simulator, powerful remote access and diagnostics, and fast error recovery, thereby reducing development effort and costs.
For more information about the new SPiiPlusEC motion controller and EtherCAT network manager, click here.
About ACS Motion Control
An international manufacturer of advanced multi-axis motion controllers, machine controllers and integrated control modules, ACS provides standard and custom products that combine power and precision to deliver flexible, economical, user-friendly motion and machine control solutions. Established in 1985, ACS' international headquarters is located in Israel and its North American headquarters resides in Bloomington, MN. ACS also has facilities in South Korea and China, and distributors worldwide that deliver dependable customer service and product support. ACS is an ISO9001 certified manufacturing facility, demonstrating its continuous commitment to providing customers with reliable devices that are thoroughly tested with the latest available techniques.