ACF Series from American Control Electronics Offers Simplicity of a DC Drive in a Compact, Microprocessor-Based Variable Frequency Drive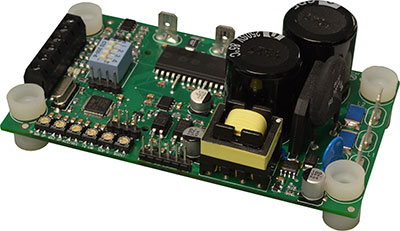 SOUTH BELOIT, IL – American Control Electronics introduces the ACF Series, an open chassis microprocessor-based variable frequency drive (VFD) that offers the simplicity of a DC drive. ACF700 drives are designed for quick and easy setup without any programming, in contrast to the complex programming associated with standard VFDs. The drives are equipped with user-adjustable trim pots to set Max/Min Speeds, Slip Comp, Boost, Torque Limit, Accel and Decel/Injection Braking parameters. The 115V/230V single phase input can provide single or three phase outputs of 115V or 230V making it ideal for sub-fractional HP motors and gear motors. An onboard microprocessor allows custom programming for a variety of OEM applications.
ACF Series features include:
HP: 1/60 to 1
Voltage (VAC): 115/230
Maximum current (AAC): 4
Carrier frequency: 1.6 or 16 kHz
Adjustable base frequency
DC injection braking
Protects against overheating as a result of frequent overload
About American Control Electronics
American Control Electronics (ACE) is an electronics manufacturer located in South Beloit, IL and parent company for the Minarik Drives brand. American Control Electronics designs and produces a wide variety of AC & DC electronic control systems and power products used in industrial, commercial, EV, medical, and home automation markets. American Control Electronics has also developed several "Green" products that control motors from battery and/or photovoltaic power. The Minarik Drives brand has a 60-year reputation and is the standard for products in its class. American Control Electronics designs unique product solutions to meet the specific needs of its customers.
All products are designed and built in our United States location, which is both ISO 9001:2008 registered and UL508A certified.
Company Contact
Brandon Jones
Tel: 844.262.6875
PR Contact
Julie Eleftheriou
Tel: 952.913.3065