ace GigE Area Scan Cameras now with CMOS Sensors by CMOSIS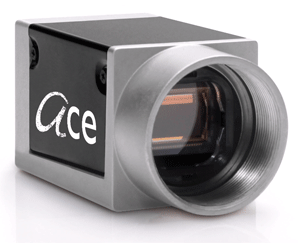 Camera specialist Basler will soon be starting series production of their ace GigE camera models with powerful CMV2000 and CMV4000 CMOS sensors by CMOSIS. Shortly after, the two monochrome models will also be available as NIR (near Infrared) variants which exceed even high-quality CCD cameras in matters of image quality and sensitivity.

These ace GigE cameras are available with 2 MP resolution and 50 frames per second (acA2000-50) and with 4 MP resolution and 25 frames per second (acA2040-25), each in monochrome and color. Just as the CMOSIS-based Camera Link models, these cameras exhibit low noise and a very high sensitivity, resulting in excellent image quality. They are thus an ideal match for a broad variety of applications including factory automation, semiconductor and electronics production, traffic applications, the solar industry and the medical sector.

Basler ace GigE cameras with CMOSIS sensors are convincing on account of their exceptional price/performance ratio. They are currently the smallest GigE cameras with these sensors, and they offer a unique combination of superb image quality, flexibility, and low list prices.
Also Available as NIR Variants
The two monochrome models of the ace CMOSIS GigE cameras are also available as NIR-optimized variants. Compared to the regular mono cameras, they achieve double the sensitivity at wavelengths of 900 nm. Thus, they offer decisive advantages under bad lighting conditions or at night, and they are an ideal choice for surveillance tasks, intelligent traffic systems, or biometrics.

The price/performance ratio for these models is remarkable. The ace NIR variants exceed even high-quality CCD cameras in matters of image quality and sensitivity. At the same time, they are far less expensive and faster, so that users will benefit from this camera innovation in every respect.
Small Form Factor and Power over Ethernet Save Space and Money
The Basler ace has a very compact housing of 29 mm x 29 mm x 43.5 mm and weighs less than 90 grams. Users can thus build smaller systems with unique performance and use the cameras even in space-critical surroundings.

Only one cable per camera is necessary thanks to the power supply via Power over Ethernet. This also saves space and reduces complexity, susceptibility to faults, and system costs.
Basler is a leading global manufacturer of digital cameras for industrial and video surveillance applications, medical devices, and traffic systems. Product designs are driven by industry requirements and offer easy integration, compact size, excellent image quality, and a very strong price/performance ratio. Founded in 1988, Basler has 25 years of experience in vision technologies and has designed and manufactured high quality digital cameras for 15 years. The company employs around 300 people at its headquarters in Ahrensburg, Germany, as well as at international subsidiaries and offices in the U.S., Singapore, Taiwan, and Korea.